Sales and inventory management software for small business
Sales and inventory management software by Catalystk is a web-based software system for small business traders to automate stock and order management. The inventory management system is essential for any business to streamline order management and deliver customer requirements on time. The small business sales and inventory software serve as an integrated solution to manage the material stock, sales orders, dispatch, billing, eventually increasing the profitability of the sales. It is an all-in-one business growth tool that helps you manage the core business functionalities, monitor the progress of the sales, and win new business opportunities. Catalystk sales and inventory management software is an integration of Lifetime free GST billing software, free CRM software, ERP software, AMC or Rental software, Inventory software, Manufacturing software, Artificial Intelligence ( AI ), and 500+reports. It's fully free with all the options. Click the link to register for free.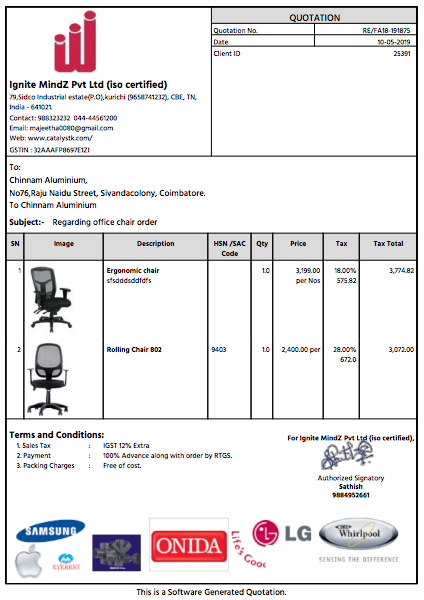 Catalystk inventory and sales management software eases product tracking with tools to generate quotations, proforma invoices, and tax invoices.
Catalystk provides
inventory sales management software
with enhanced and user-friendly tools to improve sales processes. The product
inventory tool
of the software provides quick data access with a complete report of the stock availability. Using the software you can upload all customer contacts, product data, generate and share sales documents such as quotations, proforma invoices, sales orders, delivery challan, and tax invoices in less time. Some of the add-on options include procurement management, tracking sales requirements, orders, product reorder levels, maintaining damaged stock, tracking goods return, etc.
Sales inventory management software features:
Quotation with images
Quotation grouping products
Sales management
Procurement Management
Purchase Enquiry
Vendor Identification
Purchase Order
Goods Received Note
Goods Return
Purchase Invoice Verification
Purchase Invoice
Pending Purchase
Quotation without image
Email Quotation
Quotation Follow-ups
missed quotation follow-ups
Sales Order
DC
Sales Projections
Sales achievements
Deals management
Task management
Leads management
Return Received
HSN Code
GST Calculations
Finance management
General Ledger
Client Ledger
Supplier Ledger
Pending Payments
Profit and Loss
Sales Work Flow
Grouping
Follow Up
Excel Uploads
Excel Download
Automated Sales Order, Invoice mailing system
Reports
Catalystk sales and inventory software is a fully integrated system with tools for managing leads, deals, inventory, sales transactions, and reporting.
The sales and inventory management system is a fully integrated software platform to automate lead to the sales management process. The software simplifies the sales process by providing CRM tools to manage leads, prospects and convert them into potential business deals. Using the single software platform you can track customer inquiries, followups, share business proposals, and drive them into sales. Apart from inventory, sales quoting, and billing the system produces complete reports of sales transactions, payments received, pending, customer ledgers, expenses, and many more. It also produces daily business reports such as sales projections, sales reports, and profit margins.