Free CRM software or free online CRM tools help sales improvement.
Catalystk offers lifetime free CRM software to improve the life of SMB traders and manufacturers. It a free online CRM with various tools which can be enabled and disabled according to your needs. It's integrated with Quotation management software, Deals management, free billing software, ERP software, Service, AMC software, Inventory software, Manufacturing software, Artificial Intelligence(AI) and 500+ reports. It's fully free with all options. Click the link to get a free registration.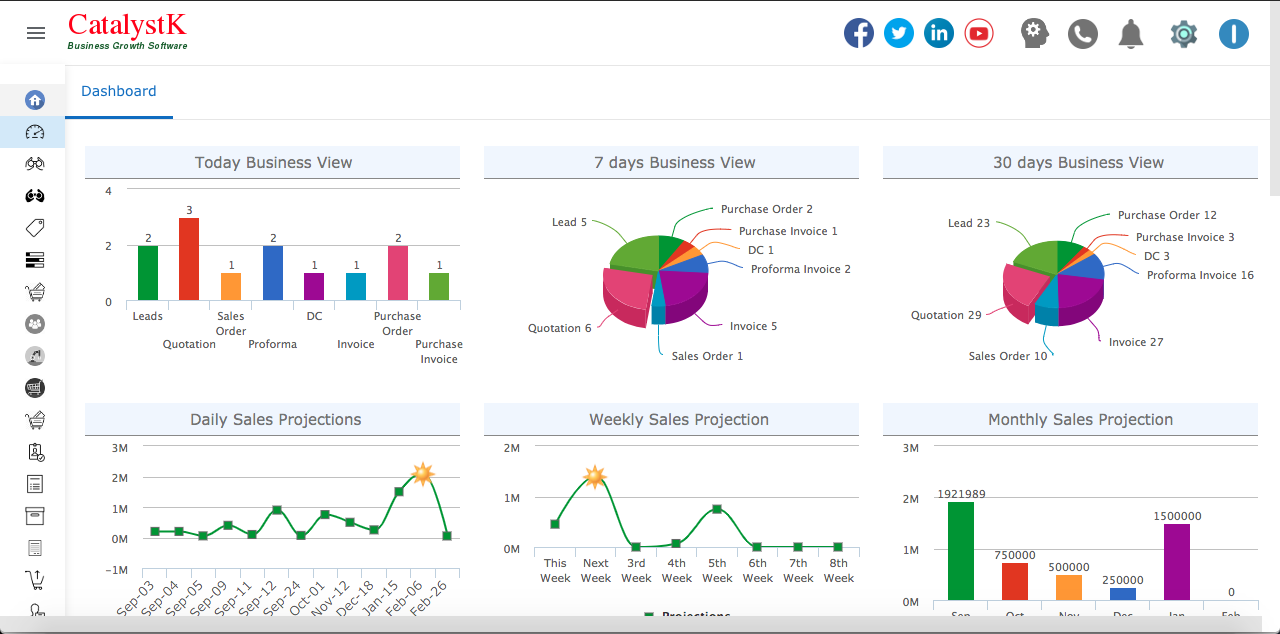 Catalystk offers free CRM software or free online CRM tools for SMB Traders and Manufacturers.
CRM module of CatalystK provides full business Automation, Tracking of the customer and their interest, Customization, Reports, and Maintenance of customer records.
Sales Projection
Lead management
Task management
Automatic Lead capture for Justdial, Sulekha, Indiamart, Trade India, etc.
Sales Work Flow
Grouping
Promotions Management
Excel Uploads
Lead Assignments
Missing Client
Sales Visits
Follow-ups
Meetings
Email
SMS
Quotation
Proforma Invoice
Sales Order
Purchase Order
DC
Invoice
Triplicate Invoice
Quadruplicate Invoice
Goods Received Note
Purchase Request
Purchase Enquiry
Purchase Invoice
Supplier Identification
Manufacturing
Bill of Materials
Allocation
Work Order
Job Order
Wastage Management
Production Management
Inventory Management
Payments
500+ Reports
Catalystk provides free CRM software or free online CRM tools to all small business to improve their sales and business. 
It can track all your sales visits, customers, executives, service engineers, customer conversations, maintains very good followups and meetings. Its very cost-effective solution. Catalystk brings in all corporate tools to SMB traders and manufacturers at affordable price.
You can maintain all your business operations in a single software.

Steps:
Click the "Free Registration" option and then Fill the form and Click the "Register" button.
OTP will be sent to your email id
Enter the OTP from your email and click login
NOTE: For any clarifications Kindly contact the support team.