Add terms and conditions for quotation to display your business terms
Add terms and conditions for quotation to display your business terms to clients. Basically, terms and conditions for quotation give business owners the chance to set their terms & conditions for quotation rules of how their product or service may be used including, but not limited to, things like copyright simple quotation terms and conditions, and the governing law of the contract. Terms and conditions differ from client to client, and it takes more time make alignment when you put manually from excel or word. Catalystk provides a better solution to add multiple terms condition in one time, and you can select with a single click at anywhere Catalystk add terms and conditions for quotation is integrated with Lifetime free GST billing software, free CRM software, ERP software, AMC or Rental software, Inventory software, Manufacturing software, Artificial Intelligence ( AI ), and 500+reports. It's fully free with all the options. Click the link to register for free.
How to write payment terms and quotations in quotation?
You can add the N number of payment terms in catalysk, and select in the quotation based on the customer's need.
1. Click "Settings" to open "Payment terms".
2. Click "New payment term" and your terms.
3. Now click the "Save" button to save the payment terms.
4. Select the particular payment terms in the quotation.
5. Use the "Quotation no" field to geneate the exact module of the same quotation.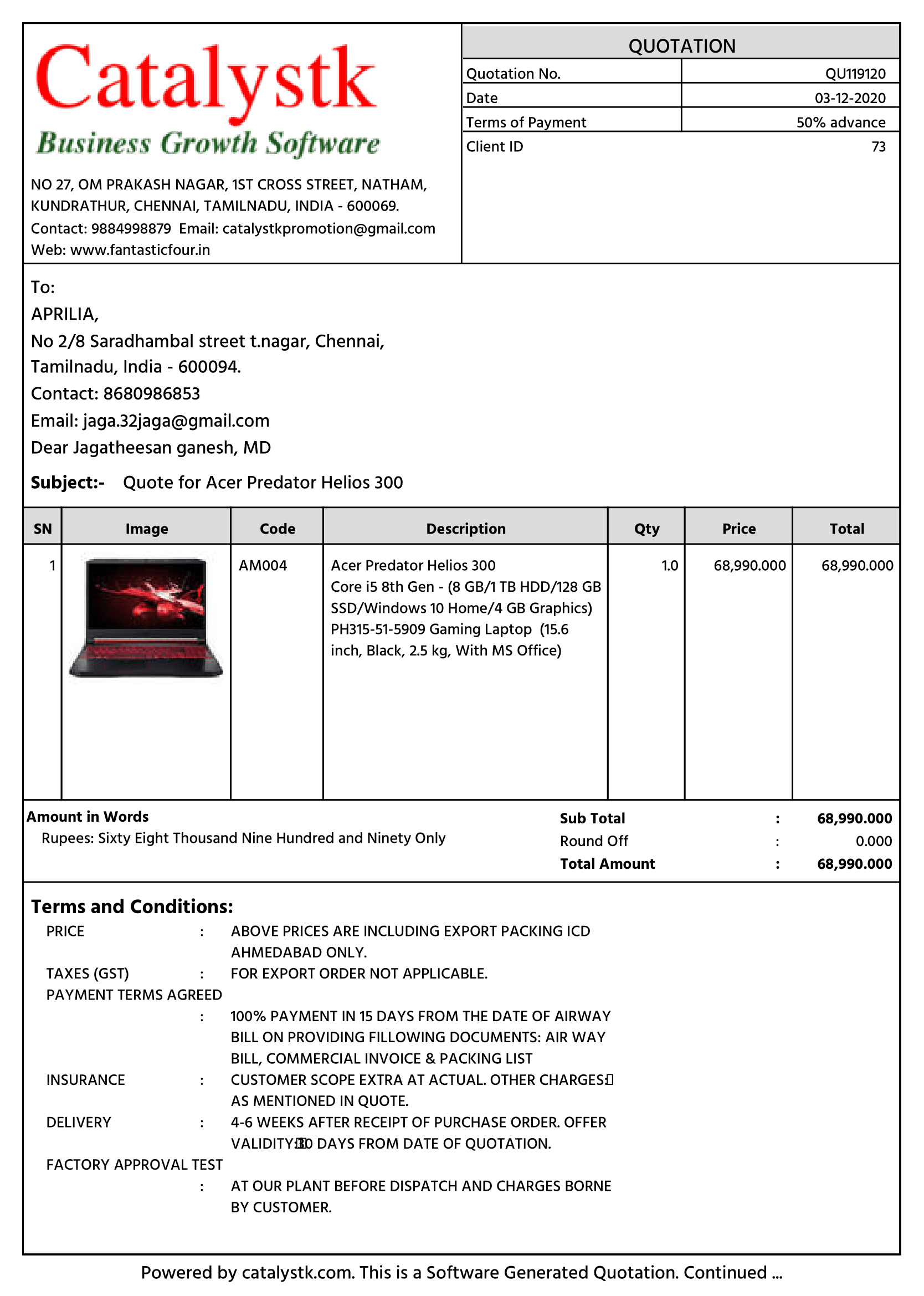 Catalystk add terms and conditions for quotation to understanding their duties, rights, roles and responsibilities.
The
quotation terms and conditions example
is integrated with
conditions of quotation
CRM and inventory management software to simplify the
quotation condition
creation process. It provides tools to upload customer and product data to generate quotations within seconds.The quoting application makes the quotation tracking process easier wherein you can set reminders to followup quotes, record quotation status, and get a detailed report of the quotes shared, approved, and not approved, thereby simplifying the sales workflow.
Add terms and conditions for quotation features:
Quotation with images
Multiple terms and conditions
Quotation grouping products
Quotation without image
Email Quotation
SMS Quotation
Quotation Follow-ups
missed quotation follow-ups
Sales Order
DC
Invoice
Sales Projections
Sales achievements
Automated Sales Order, Invoice mailing system
Deals management
Task management
Leads management
Return Received
HSN Code
GST Calculations
Finance management
General Ledger
Client Ledger
Supplier Ledger
Pending Payments
Balance Sheet
Profit and Loss
Sales management
Procurement Management
Purchase Enquiry
Vendor Identification
Purchase Order
Goods Received Note
Goods Return
Purchase Invoice Verification
Purchase Invoice
Pending Purchase
Sales Work Flow
Manufacturing
Bill of Materials
MRP(Planning)
Job Work / Job Order
Work Order
Manufacturing process
Grouping
Follow Up
Excel Uploads
Excel Download
Reports
Catalystk add terms and conditions for quotation is a complete sales software integrated with CRM, inventory, and billing features to enhance sales process.
The terms and conditions of quotation  and terms and conditions in quotation is embedded with good followup features which quotation terms and conditions serve as a reminder to keep track of all the existing and newly revised quotations. The sales quotation format provided by Catalystk software allows you to retrieve 500+ quotation reports with an excel download option. You can get customer-wise reports, status-wise reports, daily, weekly, monthly, and yearly quotation reports. The excel reports provide complete details such as the quotation number, date, total value, client details, and quotation status.The software applications provide up to date business reports such as quotation reports, invoice reports, product sales reports, purchase reports, lead reports, and finance reports.