Revised quotation software free download to generate revised quotations.
Revised quotation email is needed to negotiate with the customer and provide a revised quote. Revise quotation software Catalystk, now allows creating a  quotation revised, by just selecting the revised option in the quotation tab. When a quotation is negotiated then the new price details have to be sent to the customer. So we need to revise the old quotation so it generates a new quotation number for future reference and you can change the price details according to your negotiation. Catalystk CRM is a combination of various software like free CRM software, ERP software, Manufacturing software, Helpdesk or Service, Quotation making software, GPS, Inventory, AMC software, Artificial Intelligence, and Business Intelligence. All this software are provided for free. Free Registration can be done by clicking the Free Registration option. Many small companies use catalystk for free. There are a lot of frequently asked questions about the revised quotation. Following are some of the frequently asked questions and their answers.
What is the meaning price quotation?
A revised quotation is a way to generate a quotation with a newly created revised quote number, amount, discount, item list, email, and images in excel or pdf format. All information in the old quotation can be edited to new items, new values, and new discounts. this helps any sales team to maintain both old quotations and new quotations so they can keep a reference for the entire negotiation with the customer. A quotation is generally a written document, though at times it is verbally discussed between the parties. This is generally on the letterhead of the seller or duly stamped and signed by the seller. It states the fixed price of the goods/services and any additional cost i.e. generally the additional cost may be in the nature of freight, taxes, etc. The additional cost if any is generally on the basis of actuals.
How do you send a revised quote to a customer?
The revised quote should be edited with the newly revised quote number, amount, discount, item list and regenerated in pdf or excel format. The newly generated revised quote can be sent to a customer in the email or you can take a print on your company letterhead, scan it, and email it to your customer. 
Revised quotation software benefits:
Generates a new quotation number for future reference
Revise the quotation according to the new negotiation with the customer.
Send a copy of updated negotiation details to the customer through the mail and SMS, so you can avoid miscommunication.
Revise a quotation with just one click, which thereby saves time.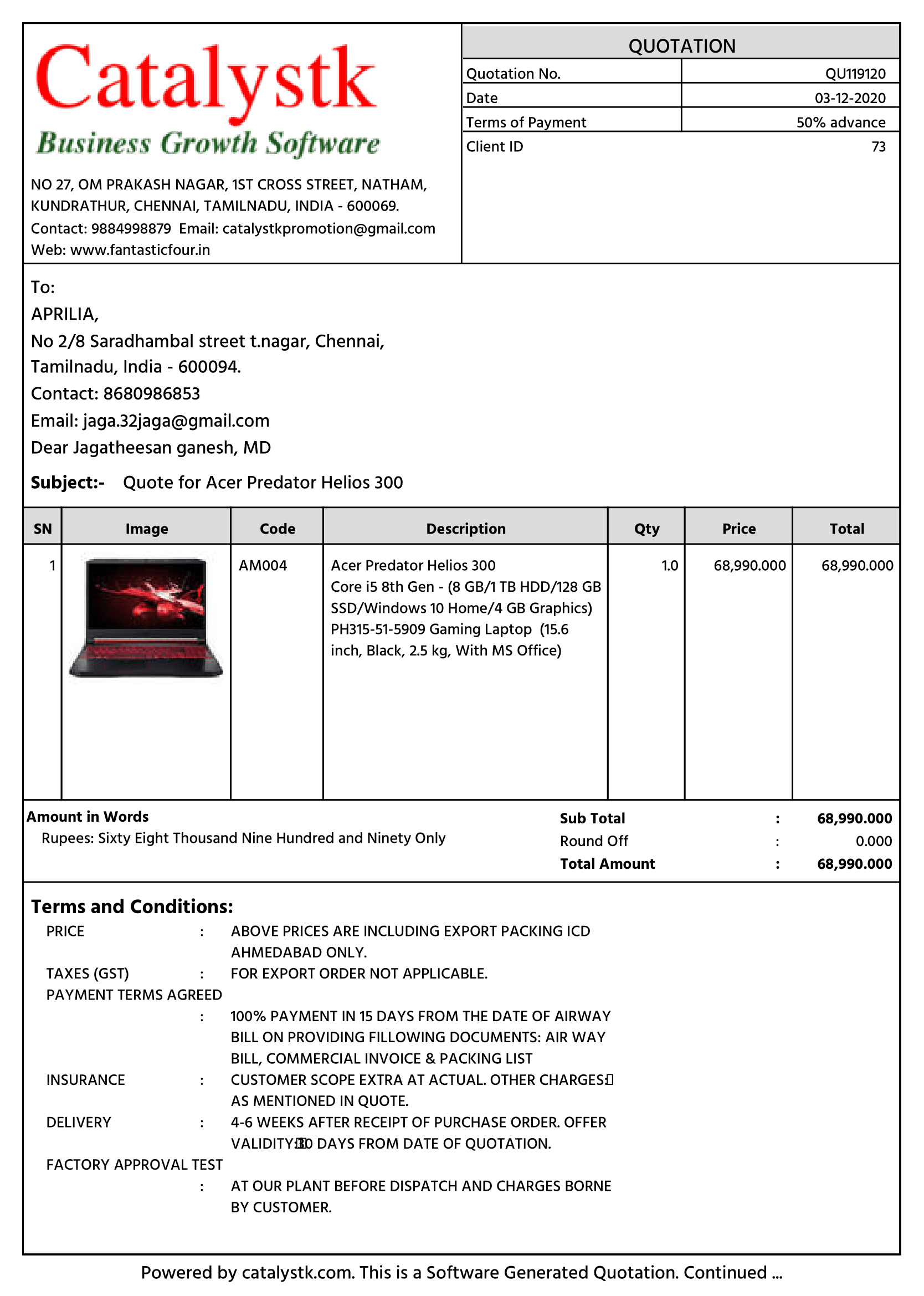 Revised quotation software free download full version with email, images, pdf, excel is provided for free to improve business by Catalystk.
Catalystk quotation revised is an all in one sales quotation software with revised quotation options, Email, SMS, and much more. It integrates CRM, ERP, Help desk, Manufacturing, Business Intelligence, Inventory, AMC, and Artificial intelligence software. Free online revised quotation software is a part of sales in CRM. Catalystk revised quotation software also has more than 500+ reports.
Revised Quotation Software features:
Revised quotation email
Quotation with images
Quotation grouping products
Quotation without image
Email Quotation
SMS Quotation
Quotation Follow-ups
missed quotation follow-ups
Sales Order
DC
Invoice
Sales Projections
Sales achievements
Deals management
Task management
Leads management
Return Received
HSN Code
GST Calculations
Finance management
General Ledger
Client Ledger
Supplier Ledger
Pending Payments
Balance Sheet
Profit and Loss
Sales management
Procurement Management
Purchase Enquiry
Vendor Identification
Purchase Order
Goods Received Note
Goods Return
Purchase Invoice Verification
Purchase Invoice
Pending Purchase
Sales Work Flow
Manufacturing
Bill of Materials
MRP(Planning)
Job Work / Job Order
Work Order
Manufacturing process
Grouping
Follow Up
Excel Uploads
Excel Download
Automated Sales Order, Invoice mailing system
Reports
Revised quotation generation steps:
1. Click the side menu option of "Home" and then click the "Quotation" tab.
2. In the "Quotation" tab options, In an existing Quotation, click the "Expand" option.
3. Below "Save" option, Click "Revise" option to revise your existing quotation
4. After revising the quotation, Click "Save" to view your revised quotation.