Quoting software for manufacturing free download to create price quotations
Catalystk provides free quoting software for manufacturing businesses to estimate and price quote all the products, services, and materials used for production. The manufacturing quoting software helps you to generate reliable, fast, and accurate price quotations. You can create quotations including all the costs involved during the production process such as material cost, labor costs, equipment cost, and any other additional service costs. The quoting application lets you estimate quotations with precise calculations and submit the quotations to all your potential customers in a professional way. The software provides user-friendly tools to schedule and organize the entire production, sales, and distribution process. Catalystk quoting software for manufacturing is integrated with Lifetime free GST billing software, free CRM software, ERP software, AMC or Rental software, Inventory software, Manufacturing software, Artificial Intelligence ( AI ), and 500+reports. It's fully free with all the options. Click the link to register for free.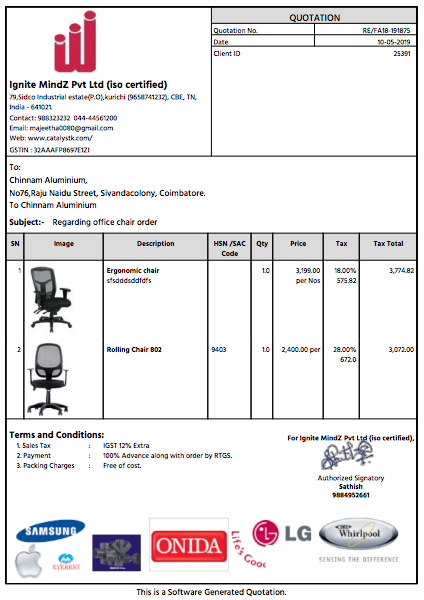 Catalystk free quotation software for manufacturing to generate personalized quotations based on changing customer and material requirements.
Catalystk offers 
quotation software for manufacturers 
that enables quick changes and lets you create personalized quotes. Customer needs and material requirements may vary during a production process which requires the quotation to be changed then and there. The quoting software lets you revise an existing quote n number of times with the new price details, discount, terms, and conditions based on the customer negotiations. The software application lets you email quotes to multiple recipients in pdf format with multiple file attachments. The quoting template includes multiple other features that help you to record and track the price quotes such as quotation followup, quotation assign, custom quotation number, quotation status, and many more. Such unique features automate and simplify the entire quoting process, thereby boosting up the overall sales process.
Quoting software for manufacturing features:
Quotation with images
Quotation grouping products
Quotation without image
Email Quotation
SMS Quotation
Quotation Follow-ups
missed quotation follow-ups
Sales Order
DC
Invoice
Sales Projections
Sales achievements
Deals management
Task management
Leads management
Return Received
HSN Code
GST Calculations
Finance management
General Ledger
Client Ledger
Supplier Ledger
Pending Payments
Balance Sheet
Profit and Loss
Sales management
Procurement Management
Purchase Enquiry
Vendor Identification
Purchase Order
Goods Received Note
Goods Return
Purchase Invoice Verification
Purchase Invoice
Pending Purchase
Sales Work Flow
Manufacturing
Bill of Materials
MRP(Planning)
Job Work / Job Order
Work Order
Manufacturing process
Grouping
Follow Up
Excel Uploads
Excel Download
Automated Sales Order, Invoice mailing system
Reports
Catalystk offers best quoting software for manufacturers with features to generate a bill of material, plan material requirements, schedule, and schedule work orders.
The quotation management software for manufacturing by Catalystk is integrated with tools to schedule and manage the production workflow. It is a software specifically designed for manufacturers where you can create a bill of materials (BOM), estimate the production cost, plan material requirements, track the usage, shortage, and availability of materials for production. In addition to this, you can create, assign work orders to the production team, track the production status, and maintain the stock of finished goods. A bill of material (BOM) can be converted to a price quotation and submitted to the customer with just a few clicks. Catalystk is an all in one business growth software to enhance the business workflow from production to sales, distribution, and finance management. You can also get 500+ reports of day-to-day business activities.