Quotations can be printed on a letterhead in Catalystk CRM Software
Catalystk software provides Quotation on letterhead format which is an easy-to-use, feature-rich, and free quotation software tool that is specifically developed for small business owners to easily price quote the products or services offered by them. Letterhead Quotation contains the company's name, address, contact details, and logo as well, so the quotation can be easily be printed with the company details without having the need to enter the details every time. The letterhead option will allow you to generate a quotation without entering logo details so it fits on your letterhead. This enables you to submit hard copies to your customers. The software not only lets you prepare professional quotations but also helps you to record, track, and retrieve required reports on a daily basis. Catalystk Quotation on letterhead is integrated with Lifetime free GST billing software, free CRM software, ERP software, AMC or Rental software, Inventory software, Manufacturing software, Artificial Intelligence ( AI ), and 500+reports. It's fully free with all the options. Click the link to register for free.
Benefits of quotation on the letterhead:
1. Submitting a quotation to tenders.
2. Giving hard copies of quotations professionally to customers.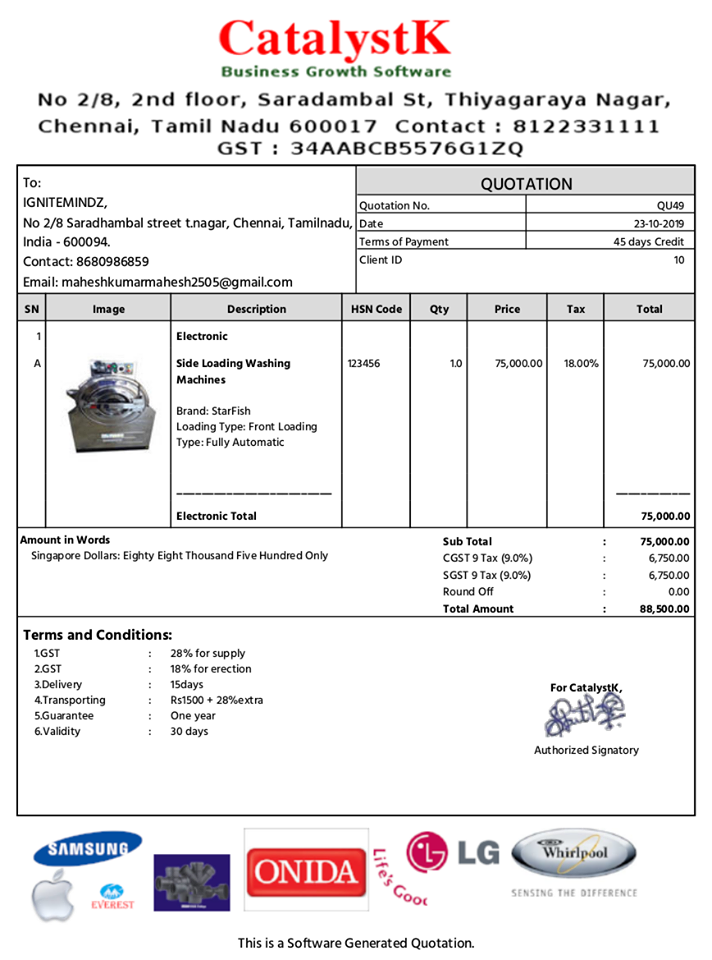 Catalystk software allows you to create full-fledged quotes with images, notes, and edits, print and email quote options, and print it in letterhead format.
Catalystk printing quotation software allows you to prepare precise and professional quotations. Unlike other software the quotation maker lets you create full-fledged sales quotations with a complete description of the customer details, product details, images, additional notes, discount, terms, and conditions. The Letterhead for quotation software lets you print your quote in your own letterhead format. Catalystk software is designed to print your quotation in different types of formats. The application is embedded with many print templates, email and SMS options to easily send quotes for instant approval. It also provides additional features to make it easier to create quotes with the product image and description, title and footer image, and terms of payment. It is an easy-to-track software that helps to keep track of quotes and quote status with options to create quotes with custom quote number format, follow-up quotes, and quotation assign.

Quotation on letterhead software features:
Quotation with images
Quotation grouping products
Quotation without image
Email Quotation
SMS Quotation
Quotation Follow-ups
missed quotation follow-ups
Sales Order
DC
Invoice
Sales Projections
Sales achievements
Deals management
Task management
Leads management
Return Received
HSN Code
GST Calculations
Finance management
General Ledger
Client Ledger
Supplier Ledger
Pending Payments
Balance Sheet
Profit and Loss
Sales management
Procurement Management
Purchase Enquiry
Vendor Identification
Purchase Order
Goods Received Note
Goods Return
Purchase Invoice Verification
Purchase Invoice
Pending Purchase
Sales Work Flow
Manufacturing
Bill of Materials
MRP(Planning)
Job Work / Job Order
Work Order
Manufacturing process
Grouping
Follow Up
Excel Uploads
Excel Download
Automated Sales Order, Invoice mailing system
Reports
Catalyst quotation on letterhead software to automate and regulate quote generation and efficiently convert quotes into sales orders.
Catalystk provides letterhead quotation integrated with sales tools and allows conversion of quotations into orders to simplify sales and distribution. It is embedded with CRM and inventory features to convert leads into potential customers, followup customers, fetch product/service, and customer data easily while creating quotations. An approved quote can be converted into a proforma invoice, sales order, and GST invoice. You can generate 500+ excel reports of day-to-day sales and business processes such as lead reports, quotation reports, invoice reports, finance reports, etc. Catalystk provides an all in one solution to manage the key business process efficiently.
Steps for printing Quotation on Letterhead:
1. Click the "Sales" tab and then click the "Quotation"  tab. Click "Save" to generate a quotation.
2. Click on the "Letterhead" option, to print quotations on letterhead.