Production planning software for small business to plan resource
Catalystk Production planning software for small business is a software tool for SMB manufacturers with all the features that a good production management software must include. Production planning involves preparing a plan for determining the materials and the cost of materials involved in a production process. This process can also be referred to as the pre-production estimation of raw materials required and cost incurred into it. The advantage of pre-production estimation or resource planning is that we can determine the feasibility of the production process. Free production planning software for small business helps you to accurately plan and schedule the production process by generating the Bill of Material (BOM), Material Requirement Planning (MRP), and by placing job/work order. Catalystk free Production planning software for small business is integrated with Lifetime free GST billing software, free CRM software, ERP software, AMC or Rental software, Inventory software, Manufacturing software, Artificial Intelligence ( AI ), and 500+reports. It's fully free with all the options. Click the link to register for free.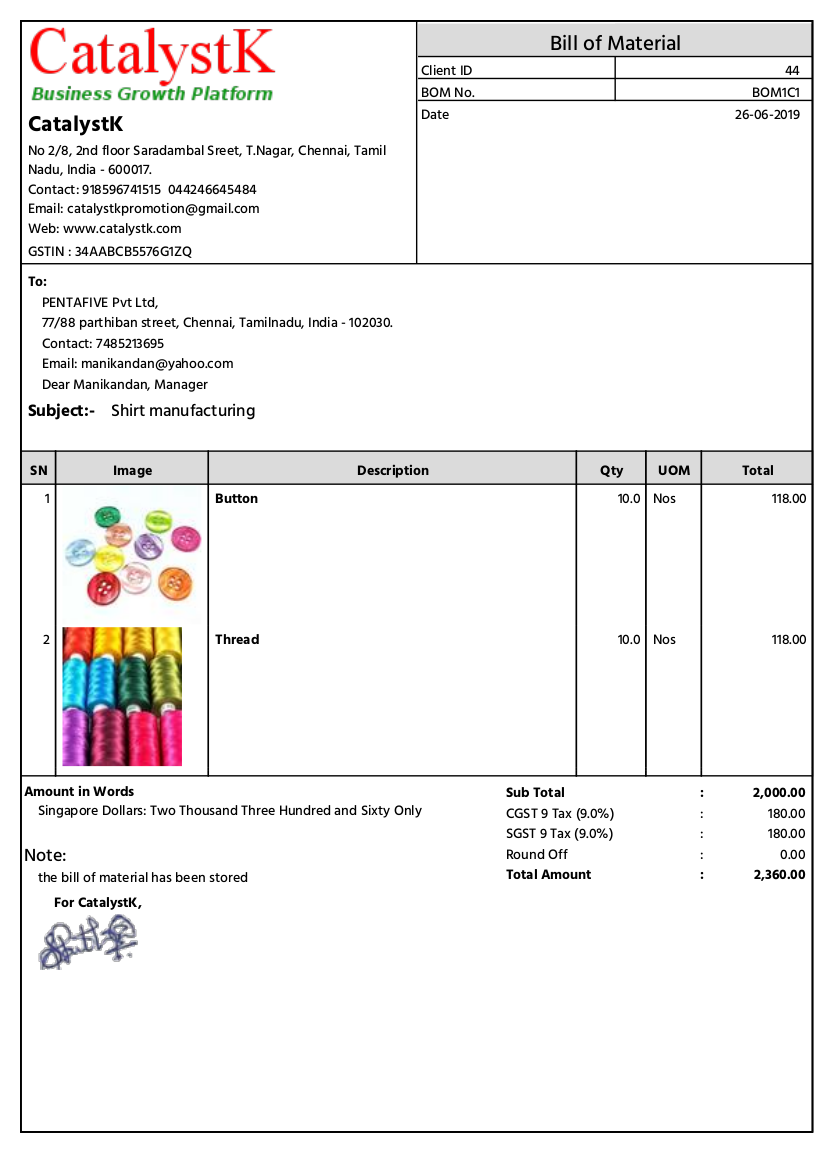 Catalystk free production planning software for small business allows printing material plan and customizing it according to the requirements
Production planning software for small business allows planning the production accurately and effectively by determining the number of raw materials required, quantity of raw materials required to manufacture a product and a whole lot size. It also helps to track the availability, usage, shortage, and wastage of raw materials occurred during the manufacturing process of a single production order placed by the customer. You can also schedule the production order placed for its accurate and timely delivery to the customer. Once the production is planned it can be printed using the "print plan" option and the print can be customized according to the business flow by enabling/disabling the input parameters.
Production planning software for small business features:
Manufacturing
Bill of Materials
MRP(Planning)
Job Work / Job Order
Work Order
Manufacturing process
Quotation with images
Quotation grouping products
Quotation without image
Email Quotation
SMS Quotation
Quotation Follow-ups
missed quotation follow-ups
Sales Order
DC
Invoice
Sales Projections
Sales achievements
Deals management
Task management
Leads management
Return Received
HSN Code
GST Calculations
Finance management
General Ledger
Client Ledger
Supplier Ledger
Pending Payments
Balance Sheet
Profit and Loss
Sales management
Procurement Management
Purchase Enquiry
Vendor Identification
Purchase Order
Goods Received Note
Goods Return
Purchase Invoice Verification
Purchase Invoice
Pending Purchase
Sales Work Flow
Grouping
Follow Up
Excel Uploads
Excel Download
Automated Sales Order, Invoice mailing system
Reports
Free production planning software for small business for managing the product threshold and updating the finished item stock
During production planning, it is important to keep the stock updated to proceed with the production process. The product threshold serves as an alert when the inventory stock is about to reach zero levels. Production planning software allows specifying a threshold level for each product using a warning limit and alert limit option. This gives the user a warning and an alert when the product stock reaches its threshold level, thus indicating that the product stock needs to be upgraded. This uniqueness makes production planning software for small business a user-friendly and reliable one. In addition to this, catalystk software provides a feature for updating the finished item stock as and when the product is manufactured.