MRP software for small business to manage SMB manufacturers
Catalystk software provides MRP software for small business for planning material requirements during the manufacturing process. Resource planning or material requirement planning is the initial step before starting the production process and as a result, you need to have clear planning about the resources required to meet the production needs. MRP software facilitates resource planning by automating the production planning process, thus helping to determine how much raw material a business needs based on the demand for finished goods. This makes sorting deadlines more efficient and helps keep inventory volume as precise as possible. Businesses can also make better use of employees and other resources, creating tighter shifts and scheduling less downtime for equipment. Catalystk free MRP software for small business integrated with Lifetime free GST billing software, free CRM software, ERP software, AMC or Rental software, Inventory software, Manufacturing software, Artificial Intelligence ( AI ), and 500+reports. It's fully free with all the options. Click the link to register for free.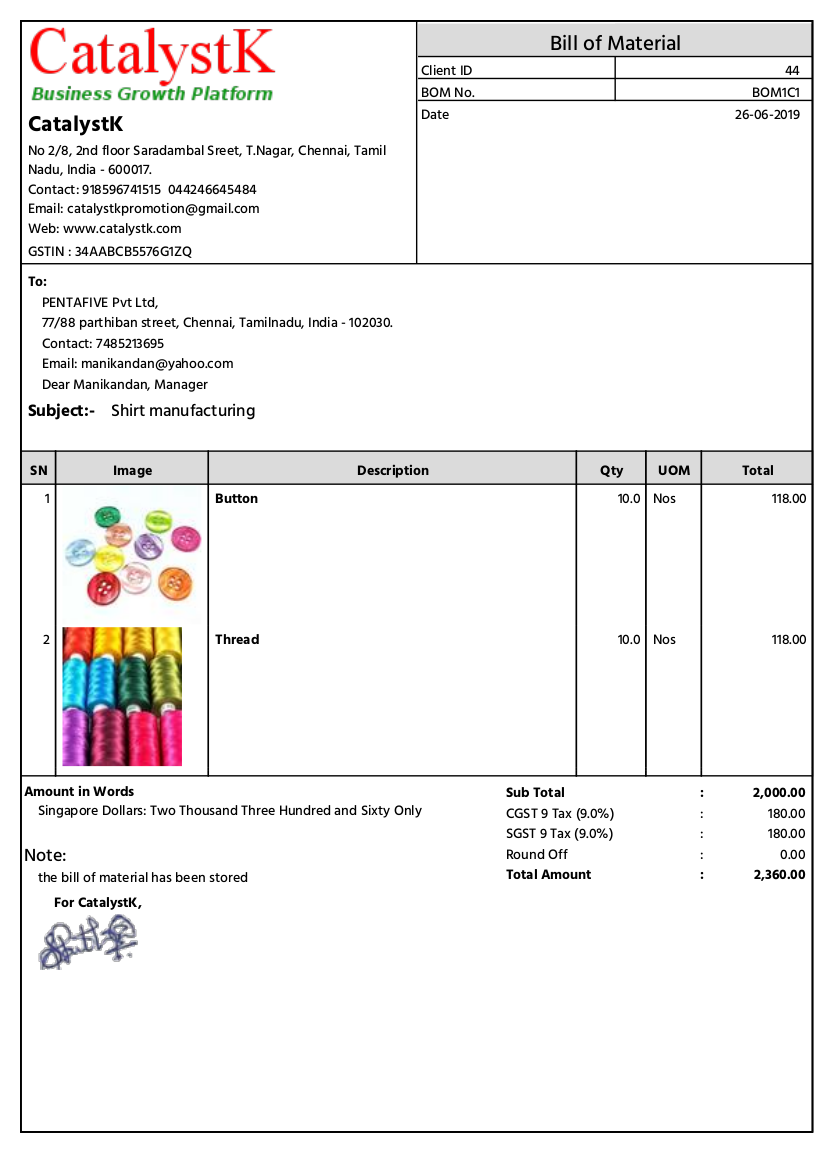 Catalystk MRP software for small business provides the facility for effectively planning material requirements
A product to be manufactured involves stages such as planning the manufacturing process, determining the raw material stock details, and maintaining the finished quantity details. One such process is Material Requirement Planning (MRP). It uses information from the Goods Bill (BOM), inventory data, and primary production table to when they will be needed during the manufacturing process.BOM is a hierarchical list of all the materials, components, and other components needed to make an item, each with their dimensions, usually displayed in the parent-child relationship. Manufacturing involves the usage of many raw materials, as a result, raw materials stock has to be maintained effectively. Catalystk MRP software for small business provides a material requirement planning module with facilities for maintaining end product details, raw material stock details, material shortage details, allocating and deallocating raw materials, and many more.
MRP software for small business features:
Manufacturing
Bill of Materials
MRP(Planning)
Job Work / Job Order
Work Order
Manufacturing process
Quotation with images
Quotation grouping products
Quotation without image
Email Quotation
SMS Quotation
Quotation Follow-ups
missed quotation follow-ups
Sales Order
DC
Invoice
Sales Projections
Sales achievements
Deals management
Task management
Leads management
Return Received
HSN Code
GST Calculations
Finance management
General Ledger
Client Ledger
Supplier Ledger
Pending Payments
Balance Sheet
Profit and Loss
Sales management
Procurement Management
Purchase Enquiry
Vendor Identification
Purchase Order
Goods Received Note
Goods Return
Purchase Invoice Verification
Purchase Invoice
Pending Purchase
Sales Work Flow
Grouping
Follow Up
Excel Uploads
Excel Download
Automated Sales Order, Invoice mailing system
Reports
With catalystk MRP software for small business, you can maintain material usage and wastage details during manufacturing
Catalystk MRP software for small business is incorporated with many unique features required for maintaining a small-scale manufacturing business process. One such feature is maintaining the usage and wastage of materials. During manufacturing a product, there may be wastage of raw materials and such wastage is recycled during the next manufacturing process. As a result, wastage management is something that a manufacturer expects from an automation system. With MRP software for small business, a manufacturer can effectively manage material usage and wastage. In addition to this, it provides facilities for allocating/deallocating raw materials for a particular manufacturing process, maintaining inventory, purchase, and sales management.
With such uniqueness, the manufacturing business process can be automated using a single system.