Machine shop quoting software free for manufacturing companies
Machine shop quoting software free or quoting software for manufacturing allows all small manufacturing companies to generate quotations for manufacturing companies. A machine shop manufacturing company handles various types of metals like raw materials to make final machine parts, that undergo many processes like heating, melting, drilling, shaping, etc. Catalystk CRM provides machine shop management software, for SMB manufacturers. A small manufacturing business is self-sustained, owned and maintained with limited consign and with a minimum of profit. This type of company is maintained with a minimum of employees only. However, they have a separate production unit for manufacturing apart from the sales and purchase team. Catalystk quoting software for manufacturing integrated with Lifetime free GST billing software, free CRM software, ERP software, AMC or Rental software, Inventory software, Manufacturing software, Artificial Intelligence ( AI ), and 500+reportsIt's fully free with all options. Click the link to register for free.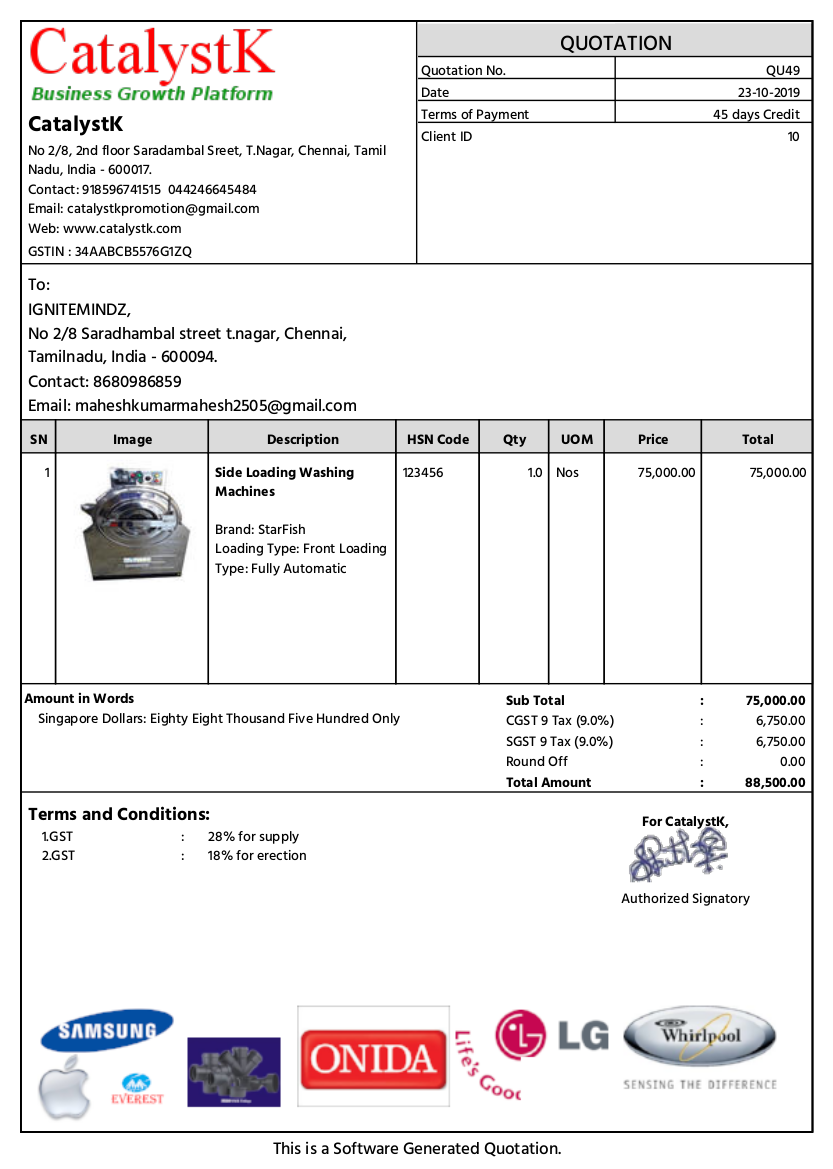 Catalystk provides machine shop quoting software free to all small businesses, which is also known as quoting software for manufacturing. 
Machine shop software is a manufacturing quote software, in which you can be able to quote your quotations for a manufacturing company. The machine shop quoting software is a combination of Sales, Finance, Purchase, Inventory, Helpdesk, and CRM modules. The finance module provides a general ledger, balance sheet, Profit and loss, etc. The sales module provides full tracking of sales with a full-fledged ERP workflow. The purchase module provides purchase order, goods received note, etc. Leads is the CRM module that contains customer details and it helps you to optimize your business. This is an Enterprise Resource Planning module that is interlinked with other modules. It can be customized based on needs. We have more than 400+ reports.
Bill of Material (BOM)
Job Order
Work Order
Wastage Management
Production Management
Usage Management
Custom Manufacturing Process
Manufacturing Planning(MRP)
Manufacturing Orders and status
Quotation with images
Quotation without image
Email Quotation
SMS Quotation
Quotation Follow-ups
missed quotation follow-ups
Invoice
Sales Order
DC
Return Received
HSN Code
GST Calculations
Finance management
General Ledger
Client Ledger
Supplier Ledger
Pending Payments
Balance Sheet
Profit and Loss
Sales management
Procurement Management
Purchase Enquiry
Vendor Identification
Purchase Order
Goods Received Note
Goods Return
Purchase Invoice Verification
Purchase Invoice
Pending Purchase
Sales Work Flow
Grouping
Follow Up
Excel Uploads
Excel Download
Automated Sales Order, Invoice mailing system
Reports
Catalystk gives machine shop quoting software free which is a free quoting software for manufacturing companies.
small machine shop software, It's all in one manufacturing software. The manufacturing quoting software, the module allows the creating Bill of Material (BOM), Material Requirement Planning (MRP), manufacturing process, work order,  job order, and so on. Reports also can be viewed and downloaded as excel for all the activities done for manufacturing. It can maintain aw material, inventory, and also wastage management.
You can maintain your entire business operations in a single software.