Free quotes and invoice maker for small business traders
Catalystk offers free quote and invoice maker with simple, easy, and user-friendly quote and invoice templates.  Quotation and Invoice are the two important documents of sales transaction must be presented to the customer in a professional way. The quote and invoice software is one such tool for small businesses to create a business quote or proposal and tax invoices. Using the small business quotation and invoice software you can produce and submit sales documents in less time with accurate costing and data. You can quote and bill all products or services with GST calculations within minutes. It provides you an all-in-one business solution from customer management to quoting and billing, thus helping you grab more orders, win business deals and achieve long-term business growth. Catalystk free quotes and invoice maker for small business is integrated with Lifetime free GST billing software, free CRM software, ERP software, AMC or Rental software, Inventory software, Manufacturing software, Artificial Intelligence ( AI ), and 500+reports. It's fully free with all the options. Click the link to register for free.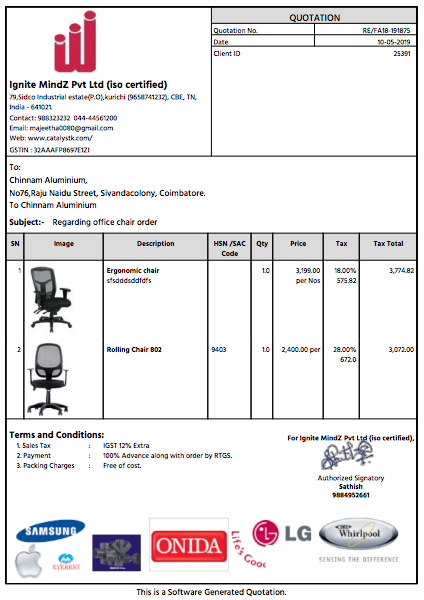 Catalystk quotation and invoice software to create quotes and invoices with images, add custom data, and email quotation and invoice pdf.
The quotation invoice software is integrated with a quotation and invoice template that is flexible and adaptable to quick changes and produces documents in varied formats. You can add a professional touch to your sales quotations with options to design quotes with product images, header and footer images, displaying your logo, brand partners, digital signatures, etc. You can even customize the data with built-in customization tools such as custom quotation and invoice number, business terms, notes, product grouping, print documents with or without tax total, discounts, and many more. Also, you can email and forward quotation and invoice pdf directly to the customers using the software platform.

Free quote invoice software features:
Quotation with images
Quotation grouping products
Quotation without image
Email Quotation
SMS Quotation
Quotation Follow-ups
missed quotation follow-ups
Sales Order
DC
Invoice
Sales Projections
Sales achievements
Deals management
Task management
Leads management
Return Received
HSN Code
GST Calculations
Finance management
General Ledger
Client Ledger
Supplier Ledger
Pending Payments
Balance Sheet
Profit and Loss
Sales management
Procurement Management
Purchase Enquiry
Vendor Identification
Purchase Order
Goods Received Note
Goods Return
Purchase Invoice Verification
Purchase Invoice
Pending Purchase
Sales Work Flow
Manufacturing
Bill of Materials
MRP(Planning)
Job Work / Job Order
Work Order
Manufacturing process
Grouping
Follow Up
Excel Uploads
Excel Download
Automated Sales Order, Invoice mailing system
Reports
Catalystk invoice and quote software is embedded with features for managing financial transactions, payments, and retrieve business reports.
Catalystk offers a fully integrated small business quotes and invoices software with add-on sales management tools. From quoting to billing, it gives you options to manage all business revenue, expenses, and financial transactions. Against each and every sales order and invoices, payments can be recorded and saved with options to retrieve ledger reports, outstanding payment reports, set payment reminders, manage cash receipts and vouchers. The software produces up to date and accurate sales reports such as sales projections, quotation reports, monthly invoice reports, etc.
Steps to create quotations using quotation and invoice generator:
1. Click the side menu option of "Home" and then under the "Sales" tab click "Quotation".
2. Click "New Quotation" -> Enter the customer, product details -> Click "save" to generate a quotation.
3. Open any existing quotation -> use the "Download", "Print", "Mail" options to send the quotation to the customer.
Steps to convert a quotation into a tax invoice using invoice and quotation software:
1. Click the side menu option of "Home" and then under the "Sales" tab click "Invoice".
2. Click "New Invoice" -> Enter the quotation number in the search options provided.
3. Click "Save" to generate an invoice from the existing quotation.