Free quotation template psd download to create proposals for business
Free quotation template PSD free download for growth in business by generating and managing various business vertical download quotation template. Quotation plays an important role in the success of business management. An estimated quote is presented to the client at the earlier stage of any business deal. A quotation is something that needs to be approved and once approved it is converted to sales. It may take many changes before it is being approved. Not all proposals receive approval from the client so good proposal, more the chances of getting approved. A proposal must be in such a way that it satisfies the clients requirements as well as improve the sales growth. Catalystk free quotation template psd provides an effective way of managing quote proposals and facilities for revising proposals. Catalystk free quotation template psd for traders and manufacturers is integrated with Lifetime free GST billing software, free CRM software, ERP software, AMC or Rental software, Inventory software, Manufacturing software, Artificial Intelligence ( AI ), and 500+reports. It's fully free with all the options. Click the link to register for free.
Quotation template psd free download
1. Expand "Sales" on the side menu and click "Quotations".
2. Now click the "New Quotation" button to open the new quotation form.
3. Fill in new or existing "Client" details.
4. Add the Service product details with "tax", "price", "description", "payment terms", etc.
 5. Now click the "Save" button to save the quotation template psd.
6.Click the "Download" button to download the quotation template psd.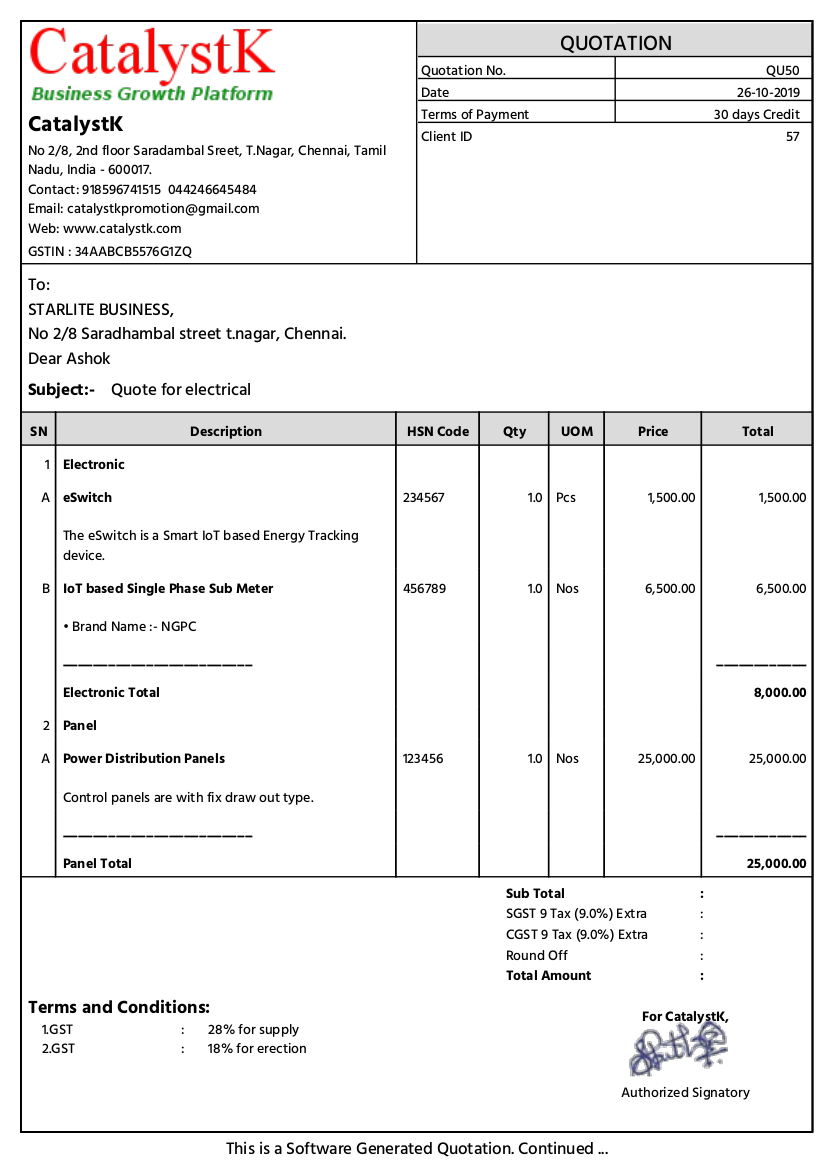 Catalystk free quotation template psd provides an effective way of presenting proposals for client satisfaction to enrich sales and improves sales probabilities
Free quotation template
 a user-friendly approach is something that every client expects from any software system.
Whatsapp chat template psd
 vary according to customer requirements and the way of presenting proposals plays a major role in satisfying customers. Customers get satisfied only when their requirements are reflected and met in the quoted proposal. Catalystk quote proposal software provides a reliable way for customizing and presenting proposals based on customer needs.
Free quotation template psd features:
Quotation with images
Quotation without image
Quotation grouping products
Email Quotation
SMS Quotation
Quotation Follow-ups
missed quotation follow-ups
Sales Order
DC
Invoice
Sales Projections
Sales achievements
Deals management
Task management
Leads management
Return Received
HSN Code
GST Calculations
Finance management
General Ledger
Client Ledger
Supplier Ledger
Pending Payments
Balance Sheet
Profit and Loss
Sales management
Procurement Management
Purchase Enquiry
Vendor Identification
Purchase Order
Goods Received Note
Goods Return
Purchase Invoice Verification
Purchase Invoice
Pending Purchase
Sales Work Flow
Manufacturing
Bill of Materials
MRP(Planning)
Job Work / Job Order
Work Order
Manufacturing process
Grouping
Follow Up
Excel Uploads
Excel Download
Automated Sales Order, Invoice mailing system
Reports
Catalystk free quotation template psd to add company logo, header, footer image and it has built in features of quotation print settings with an enable disable option to customize the quotation.
Catalystk quotation template psd includes several unique features for managing proposals. A quote psd whatsapp chat must include facilities for customizations as it is the major requirement for any customer. Catalystk quote proposal software provides a facility by which you can customize input parameters as per the requirements of the customers. It allows to generate quotations with or without images, enable or disable input parameters as and when the user needs change, print quote proposals in multiple formats, send quote proposals through the mail and many more. Another unique feature of the quote proposal software is that you can update your inventory by adding new inventory or service products while generating proposals and also categorize products by grouping them. With such features quote proposal software becomes an all in one solution for traders and manufacturers for maintaining all business processes and promotes business growth.