Free quotation software for small business to enhance sales process
Catalystk provides free quotation software for small business enterprises to manage quotations and automate the overall sales processes. Reports show that the number of small businesses is increasing day by day and with such a scenario, the quoting software for small businessserves as the best solution by providing tools to ease the quote creation and the overall business workflow. A "quotation" is the first formal document presented to a potential customer, therefore it plays an important role in achieving customer satisfaction and increasing sales. The traditional way of creating quotes in word processors or spreadsheets involves multiple steps and requires much time. The quotation software has been developed to create accurate and error-free quotations within seconds, thereby saving time. Catalystk free quotation software for small business is integrated with Lifetime free GST billing software, free CRM software, ERP software, AMC or Rental software, Inventory software, Manufacturing software, Artificial Intelligence ( AI ), and 500+reports. It's fully free with all the options. Click the link to register for free.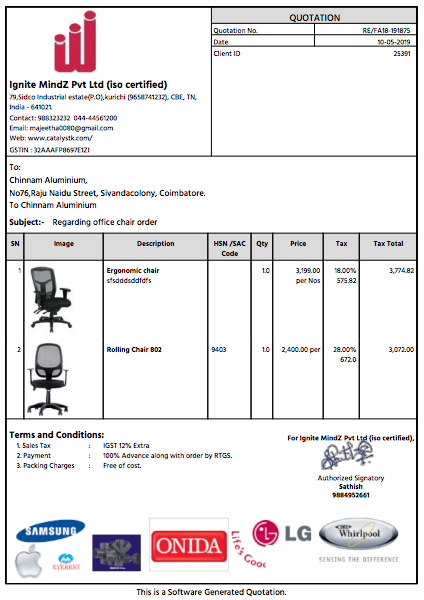 Catalystk quotation software for small business integrated with CRM and inventory tools to ease the quote creation process.
The small business quoting software is a simple and easy-to-use quoting software tool that helps you to generate multiple quotations, send them over to your potential customers in less time. quotation software for small business "Price quote" or "quotation" is an initial document generated during a sales transaction and it is important to get the quote generated accurately according to the customer requirements. To ease the process, the quotation software for small business is embedded with CRM and inventory tools with features to upload customers, product data, which eliminates the need to re-enter details while creating quotations. Using the quoting software you can create, track, and deliver quotes in multiple formats such as pdf, A4, letterhead, etc. Each time a customer negotiates you can revise quotes with new price details and mail the revised quotations instantly. 

Free quotation software for small business features:
Quotation with images
Quotation grouping products
Quotation without image
Email Quotation
SMS Quotation
Quotation Follow-ups
missed quotation follow-ups
Sales Order
DC
Invoice
Sales Projections
Sales achievements
Deals management
Task management
Leads management
Return Received
HSN Code
GST Calculations
Finance management
General Ledger
Client Ledger
Supplier Ledger
Pending Payments
Balance Sheet
Profit and Loss
Sales management
Procurement Management
Purchase Enquiry
Vendor Identification
Purchase Order
Goods Received Note
Goods Return
Purchase Invoice Verification
Purchase Invoice
Pending Purchase
Sales Work Flow
Manufacturing
Bill of Materials
MRP(Planning)
Job Work / Job Order
Work Order
Manufacturing process
Grouping
Follow Up
Excel Uploads
Excel Download
Automated Sales Order, Invoice mailing system
Reports
Catalystk quoting software for small business streamlines the sales process by providing tools to create proforma invoices, sales orders, and GST invoices.
Sales is the most important functional unit of any small business as it affects the business growth and Catalystk free invoice and quote software for small business, not only helps you to create price quotes but also streamlines the overall supply chain. The invoice quote software small business, allows you to record and manage all sales documents such as proforma invoices, sales orders, delivery notes, and GST invoices. Any approved quotation can be easily converted into a sales order and GST invoice in a single click. You can record and track customer payments, financial transactions, and retrieve required reports in excel format. It is an all in one quote-to-order management software for small business to achieve sales and business growth.
 .