Free price quote generator software to improve sales business process
price quote generator software for small business manufacturers for generating customer quotations. free quote generator the main aim of every business person is to achieve customer satisfaction by giving a quotation. Catalystk quotation software helps in generating, managing, and revising quotations for customers. In the majority of the cases, customers look for a system that provides them with a facility for revising price details. So, a good free quotation software must include facilities for revising product details, revising price details, print options, and a facility for customization. The software is embedded with user-friendly tools that let you invest more time in your clients rather than manual and paperwork. The software provides a better way for quoting your products & services, sending quotes instantly to the customers, enables quick changes, and eases sales conversion. You can quote products, add images, notes, terms, and conditions, and deliver quotes professionally in multiple formats. Catalystk price quote generator is integrated with Lifetime free GST billing software, free CRM software, ERP software, AMC or Rental software, Inventory software, Manufacturing software, Artificial Intelligence ( AI ), and 500+reports. It's fully free with all the options. Click the link to register for free.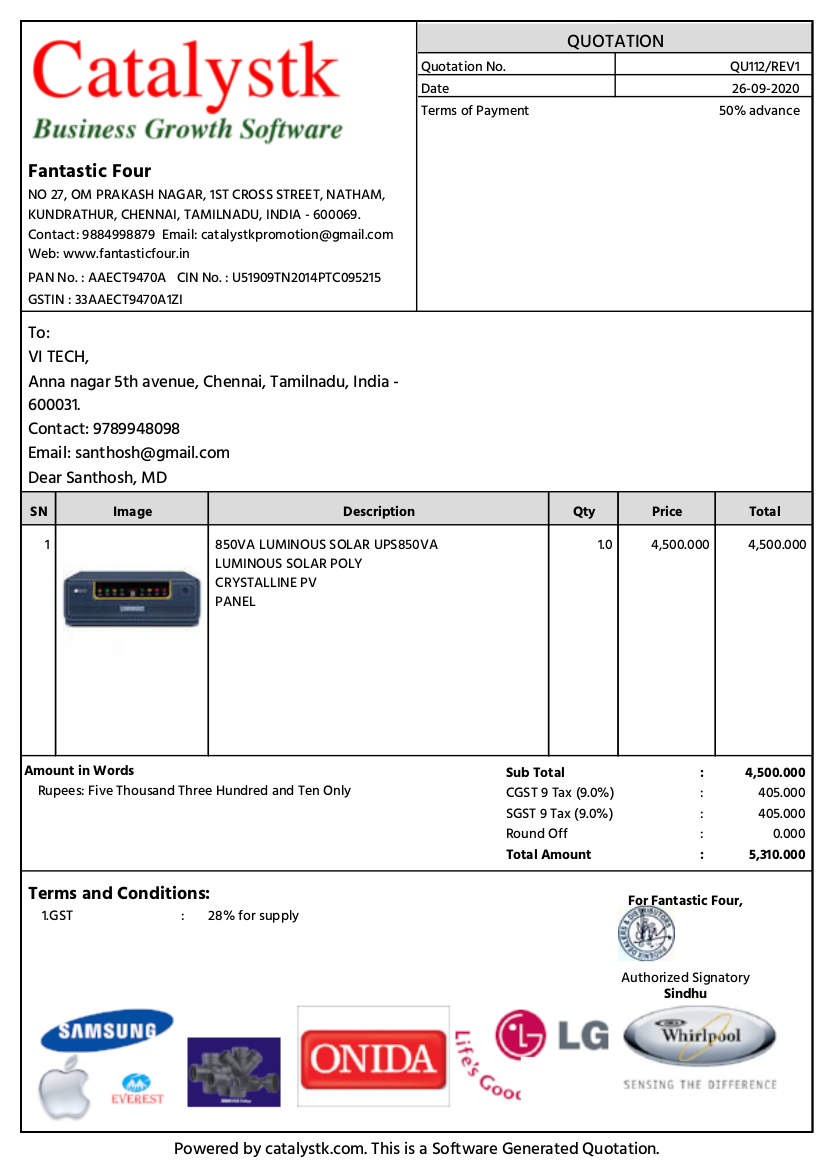 Catalystk free price quote software helps to manage sales quotations with custom quotation templates and follow-up dates.
The price quote generator for free software provides all the facilities for creating new quotations, revising quotations, configure price quote generator presenting it to the user in multiple ways such as printing quotations in multiple formats, downloading quotations, and mail options. Furthermore, you can assign quotations to the sales team for them to process and enhance sales team efficiency, thereby helping you to win more business deals. Once the quotation is generated and approved by the customer, an invoice can be generated in a single click using the quotation generated. In addition to this, a unique feature of the price quotation software download is that you can add new inventory/service products while generating quotations and invoices.

Free price quote generator software features:
Quotation with images
Quotation grouping products
Quotation without image
Email Quotation
SMS Quotation
Quotation Follow-ups
missed quotation follow-ups
Sales Order
DC
Invoice
Sales Projections
Sales achievements
Deals management
Task management
Leads management
Return Received
HSN Code
GST Calculations
Finance management
General Ledger
Client Ledger
Supplier Ledger
Pending Payments
Balance Sheet
Profit and Loss
Sales management
Procurement Management
Purchase Enquiry
Vendor Identification
Purchase Order
Goods Received Note
Goods Return
Purchase Invoice Verification
Purchase Invoice
Pending Purchase
Sales Work Flow
Manufacturing
Bill of Materials
MRP(Planning)
Job Work / Job Order
Work Order
Manufacturing process
Grouping
Follow Up
Excel Uploads
Excel Download
Automated Sales Order, Invoice mailing system
Reports
Catalystk price quote generator free software full version for creating quotations and it has special features that make it easy to use and precisely.
Catalystk estimate generator software is a reliable and user-friendly quotation system for traders and manufacturers to automate their business. Managing quotations becomes an easier task in the catalystk free quotation software download. The free quote generator software embeds built-in customization tools such as print quotations with product grouping, print quotations with/without tax columns, mail quotations with multiple attachments, various print formats like A4, letterhead, SMS price quote details, and many more. The input parameters of a quotation differ from enterprise to enterprise and vary according to the user requirements. You can enable/disable the input parameters and the print columns as and when required, and print quotations with multiple formats.
With such uniqueness, you can automate any type of business process using a single system.