Free leads list by Catalystk to generate qualified business leads
Catalystk Free leads list, a business growth software suite to capture and generate qualified business leads thereby converting these leads into prospects or potential customers. "Leads" can be described as relevant information about a person or business that expresses an interest in the product or services provided and which are likely to be converted into "Prospects" or potential customers. These prospects are the main source of income for any business leading to growth in sales. Therefore, the type of leads generated has a major impact on business revenue. The free leads list software facilitates lead generation and management and helps to achieve a higher lead conversion rate. Catalystk Free leads list is integrated with Lifetime free GST billing software, free CRM software, ERP software, AMC or Rental software, Inventory software, Manufacturing software, Artificial Intelligence ( AI ), and 500+reports. It's fully free with all the options. Click the link to register for free.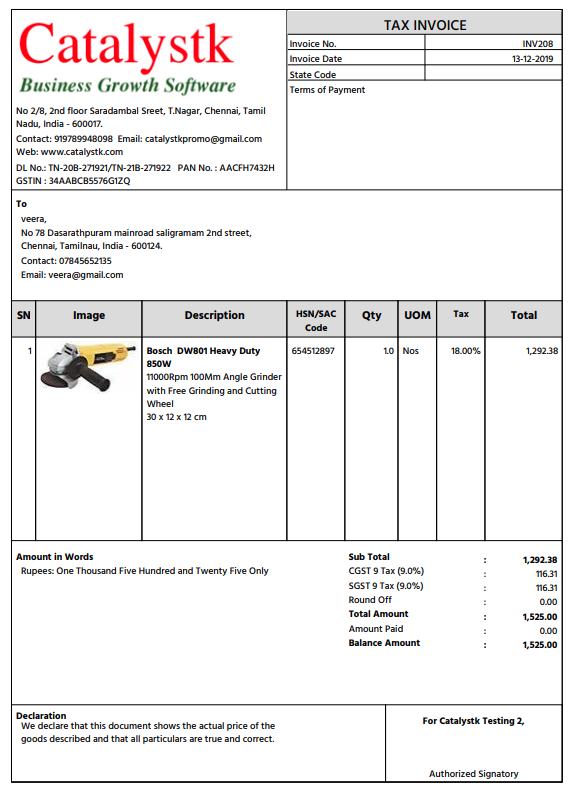 Catalystk Free leads list to auto-capture leads, lead followups, etc and manage business deals separately to achieve a higher lead conversion rate
Free leads list provides one of the best solutions for lead generation wherein you can track and capture leads through "promotions" like IndiaMart, Just Dial, etc. This not only provides quality business leads but also helps to invest in good promotions. The system also facilitates customer followups on a daily basis through the "today followup" feature and also helps to track the "missed followups" and other features like customer grouping, etc. thereby converting leads into deals effectively. Catalystk provides a separate module for processing the business deals with features such as tracking deal progress, deal followups, deals won/lost, thus categorizing leads and prospects. 
 Free leads list features:
Leads management
Deals management
Task management
Grouping
Follow Up
Estimation with tax
Invoice with tax
GST Calculations
Finance management
General Ledger
Client Ledger
Supplier Ledger
Pending Payments
Balance Sheet
Profit and Loss
Excel Uploads
Excel Download
Estimation with images
Estimation grouping products
Sales management
Procurement Management
Purchase Enquiry
Vendor Identification
Purchase Order
Goods Received Note
Goods Return
Purchase Invoice Verification
Purchase Invoice
Pending Purchase
Estimation without image
Email Quotation
SMS Quotation
Quotation Follow-ups
missed quotation follow-ups
Sales Order
DC
Sales Projections
Sales achievements
Return Received
HSN Code
Sales Work Flow
Manufacturing
Bill of Materials
MRP(Planning)
Job Work / Job Order
Work Order
Manufacturing process
Automated Sales Order, Invoice mailing system
Reports
Catalystk Free leads list to deliver customer requirements by automating the supply chain process and achieve a higher sales conversion rate
Free leads list not only helps to improve the lead conversion rate but also helps to increase the sales conversion rate with a dedicated master module for managing sales. The sales master module includes separate tabs for sales requirements, quotations, proforma invoice, sales order, invoice, AMC, etc. Each of these tabs is embedded with followup features, thereby allowing to track the progress of the sales. Some of the unique features provided by the system include determining the highest selling product, customer wise high-profit products, etc. All these features make Catalystk a one-stop solution for managing overall business, thereby achieving business growth.