Free lead generation software for processing and maintaining leads
Catalystk Free lead generation software is a cloud-based CRM and ERP integrated software to maintain all the lead details and processing them. Leads or Customers play a major role in the upliftment of any business. Growth in business can be achieved by maintaining a good rapport with the customers and satisfying their needs or requirements. Customer satisfaction can be attained through regular followups and understanding their needs. Catalystk CRM provides separate modules for lead management, client management, and deals management with features for followup, thus converting leads to potential customers and promoting sales growth. In addition, it is also embedded with separate modules for the purchase and supply chain management. Catalystk Free lead generation software is integrated with Lifetime free GST billing software, free CRM software, ERP software, AMC or Rental software, Inventory software, Manufacturing software, Artificial Intelligence ( AI ), and 500+reports. It's fully free with all the options. Click the link to register for free.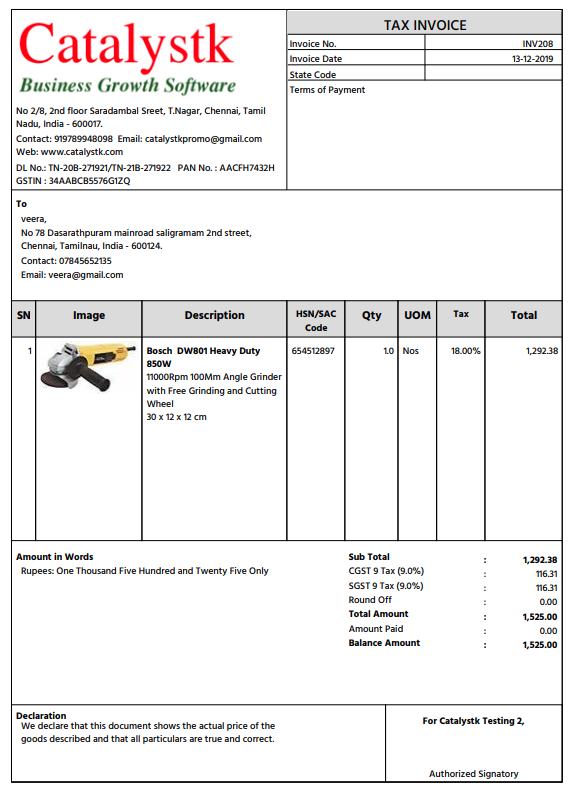 Catalystk Free lead generation software embedded with features such as lead followup, grouping customers, etc to manage leads effectively
One aspect of a lead management system that is necessary for the conversion of lead to a potential customer is the "lead followup" feature. Catalystk Free lead generation software allows specifying the followup date and time for a particular lead. Other features provided by the system are the "today followup" and "missed followup" feature that provides the user the leads to be followed on a daily basis and the missing lead details. Furthermore, the system also allows categorizing leads by mapping them to a particular group and workflow. You can also map promotions like IndiaMart, Just Dial for the auto-capture of leads.
 Free lead generation software features:
Leads management
Deals management
Task management
Grouping
Follow Up
Estimation with tax
Invoice with tax
GST Calculations
Finance management
General Ledger
Client Ledger
Supplier Ledger
Pending Payments
Balance Sheet
Profit and Loss
Excel Uploads
Excel Download
Estimation with images
Estimation grouping products
Sales management
Procurement Management
Purchase Enquiry
Vendor Identification
Purchase Order
Goods Received Note
Goods Return
Purchase Invoice Verification
Purchase Invoice
Pending Purchase
Estimation without image
Email Quotation
SMS Quotation
Quotation Follow-ups
missed quotation follow-ups
Sales Order
DC
Sales Projections
Sales achievements
Return Received
HSN Code
Sales Work Flow
Manufacturing
Bill of Materials
MRP(Planning)
Job Work / Job Order
Work Order
Manufacturing process
Automated Sales Order, Invoice mailing system
Reports
Catalystk Free lead generation software for generating and downloading lead reports in excel format with multiple filter options available
Free lead generation software allows generating lead reports that help to analyze the lead information based on time periods such as weekly, monthly, half-yearly and yearly reports. Catalystk allows viewing lead reports in multiple ways based on the workflow, group, promotion, processing type (processed, unprocessed and followup), etc. All these reports can be viewed and downloaded in excel format and you can also print the reports in the form of pictorial representation such as charts, etc. Not only just leads, but various other reports such as purchase reports, sales reports, finance reports, etc can also be generated and downloaded in excel format.