ERP for small manufacturers is a complete ERP solution for SMB.
Catalystk free ERP for small manufacturers is a complete ERP solution that organizes the business processes and also provides automation for the manufacturing organizations. This automation improves the production process, which leads to profitability. This process also reduces the manual process which thereby minimizes error rectifications. The ERP software provides all small manufacturers to manage all the stages involved in the production business such as production process planning, material requirement planning, preparing a bill of material and creating work orders, and job orders to contractors, etc. Catalystk free ERP for small manufacturers is integrated with Lifetime free GST billing software, free CRM software, ERP software, AMC or Rental software, Inventory software, Manufacturing software, Artificial Intelligence ( AI ), and 500+reports. It's fully free with all the options. Click the link to register for free.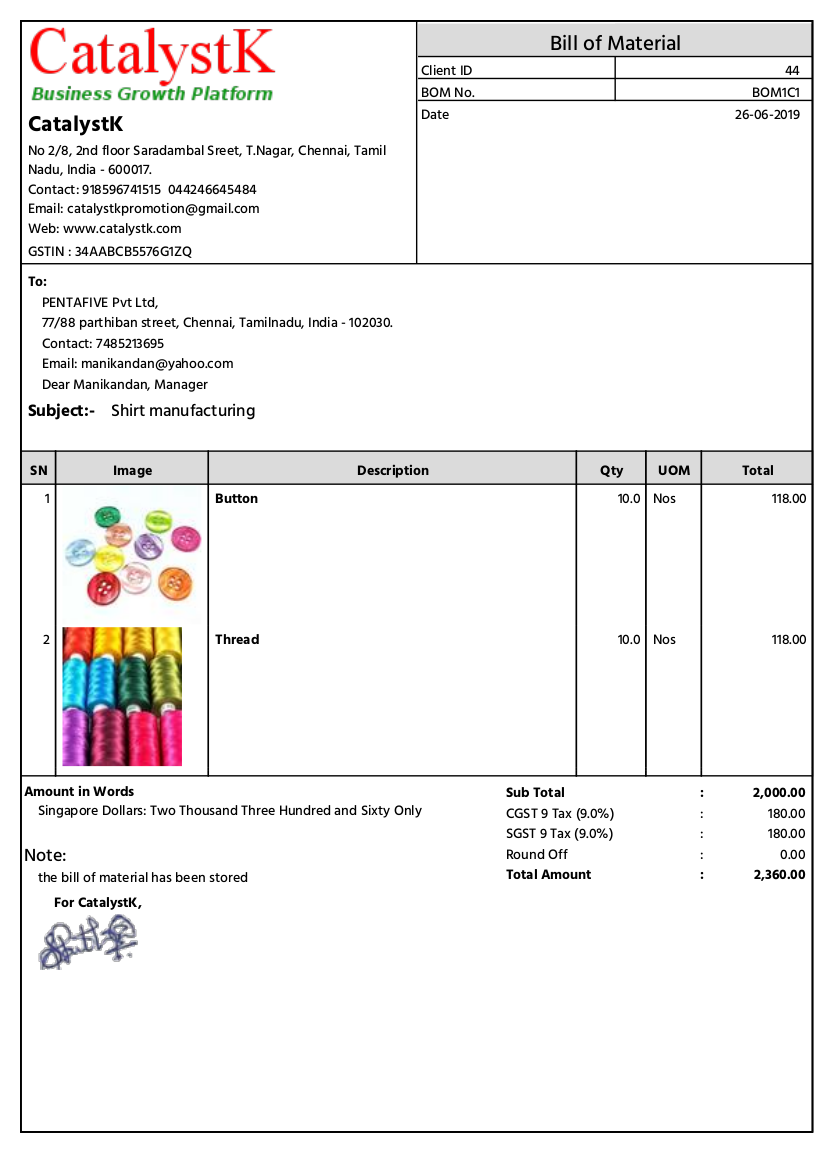 Catalystk ERP for small manufacturers is designed for both trading and manufacturing companies which provides all the internal functions of the business.
Free ERP for small manufacturers involves managing various functional aspects depending upon the type of manufacturing business. The ERP allows the users to navigate the complex processes, prevent reentry of data, which improves the production process and the accepted order can be completed on time and also delivered accordingly. The  ERP allows to generate bill of materials, materials requirement planning, manufacturing process of different stages, work order creation, job order to contractors, etc. It helps to maintain inventory so that the manufacturing company can tackle the demand of the products and thereby increase the supply accordingly. This improves the company's sale growth and leads to profitability.

ERP for small manufacturers features:
Manufacturing
Bill of Materials
MRP(Planning)
Job Work / Job Order
Work Order
Manufacturing process
Quotation with images
Quotation grouping products
Quotation without image
Email Quotation
SMS Quotation
Quotation Follow-ups
missed quotation follow-ups
Sales Order
DC
Invoice
Sales Projections
Sales achievements
Deals management
Task management
Leads management
Return Received
HSN Code
GST Calculations
Finance management
General Ledger
Client Ledger
Supplier Ledger
Pending Payments
Balance Sheet
Profit and Loss
Sales management
Procurement Management
Purchase Enquiry
Vendor Identification
Purchase Order
Goods Received Note
Goods Return
Purchase Invoice Verification
Purchase Invoice
Pending Purchase
Sales Work Flow
Grouping
Follow Up
Excel Uploads
Excel Download
Automated Sales Order, Invoice mailing system
Reports
Free ERP for small manufacturers is integrated with CRM, which manages the customer relationship and also with full options of purchase, sales, finance, etc that is best suitable for all SMB traders and manufacturing companies.
Catalystk ERP for small manufacturers is software with simple operation modules and easily accessible functions that enhances a company for more sales growth. The manufacturing module allows tracking all the activities done by a small manufacturing company. Generally, all manufacturing companies maintain stock of the raw materials that are used for manufacturing the product. Catalystk ERP for small manufacturers allows us to calculate the raw materials used, wastage of materials, extra materials used, and also allocate the raw materials for a particular client or job process. Lead is the CRM module that is integrated with ERP which contains all details of customer data which maintains the entire business operations.