CRM software cost in India for better investment to manage business
CRM software cost in India, to manage your business by investing in better CRM software that helps to enhance business relationships with the customers. With the rise in the number of startups and small business enterprises in India, there is an increasing demand for CRM software that would facilitate business relationships with customers. Multiple CRM companies in India have emerged in recent times that offer CRM software at the best price with the best features embedded into it. Catalystk provides one such CRM software at a reasonable price with multiple unique features to build quality customer relationships and ultimately driving them into sales, thus promoting business growth. Catalystk CRM is integrated with Lifetime free GST billing software, free CRM software, ERP software, AMC or Rental software, Inventory software, Manufacturing software, Artificial Intelligence ( AI ), and 500+reports. It's fully free with all the options. Click the link to register for free.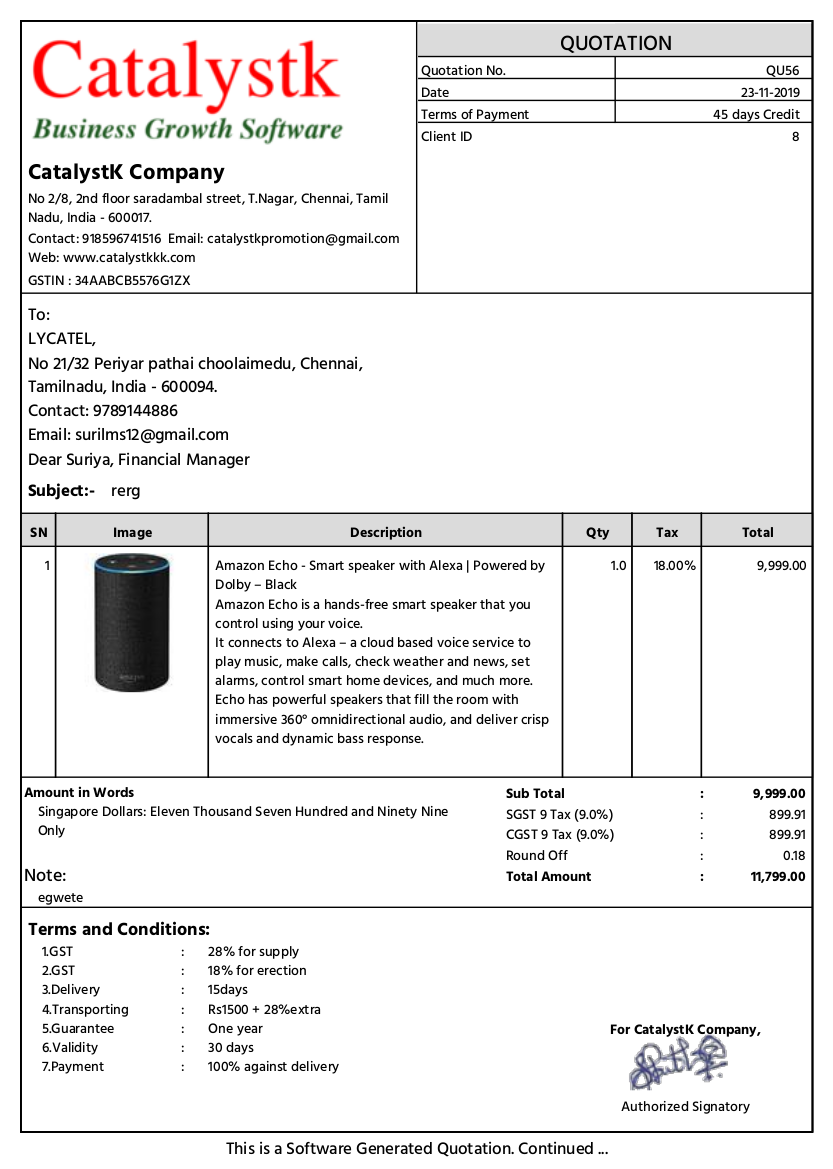 Catalystk CRM to categorize, monitor and track customer information and convert them into business deals through regular followups 
Customer relationships have a major impact on the company's revenue and growth as customers are the primary and major source of income. Therefore maintaining quality customer relationships helps you to understand customer requirements easily and also enhances the process of lead and sales conversion. Catalystk CRM is integrated with efficient lead and deal management facilities to categorize and manage "leads" and "prospects" separately in a single system. Some of the features of these modules include lead auto-capture through "promotions", maintaining lead conversations, lead followups, deal followups, grouping customers, today follow-ups, missed follow-ups, tracking deals state, prioritizing deals, setting target and track achievements of the sales team, etc.
Catalystk CRM software features:
Deals management
Task management
Leads management
Client Follow-ups
Estimation with images
Estimation grouping products
Estimation without image
Email Quotation
SMS Quotation
Quotation Follow-ups
missed quotation follow-ups
Sales Order
DC
Invoice
Sales Projections
Sales achievements
Return Received
HSN Code
GST Calculations
Finance management
General Ledger
Client Ledger
Supplier Ledger
Pending Payments
Balance Sheet
Profit and Loss
Sales management
Procurement Management
Purchase Enquiry
Vendor Identification
Purchase Order
Goods Received Note
Goods Return
Purchase Invoice Verification
Purchase Invoice
Pending Purchase
Sales Work Flow
Manufacturing
Bill of Materials
MRP(Planning)
Job Work / Job Order
Work Order
Manufacturing process
Grouping
Follow Up
Excel Uploads
Excel Download
Automated Sales Order, Invoice mailing system
Reports
Catalystk CRM to followup potential customers and converting them to sales through efficient sales management, thereby promoting business growth
Catalystk CRM is embedded with a sales management module for automating and simplifying the supply chain process, thereby delivering customer requirements precisely and increasing the sales growth. The "sales" master module allows to maintain customer requirement and generate multiple legal documents such as quotations, proforma invoice, sales order, invoice, delivery note, AMC, etc with followup features embedded into each of these tabs. Additionally, the system is also integrated with other business growth tools such as purchase management, inventory management, finance management, manufacturing/production management, report generation, etc. To conclude, the system provides a one-stop solution for promoting business growth.