CRM Lead Management Software to Manage the Small Business process
CRM lead management software by Catalystk, is a cloud-based CRM for small business embedded with user-friendly lead management tools. Leads, prospects, or customers, in general, are the source of revenue for any business. For small business enterprises, a lead management system plays an important role to enhance the business. CRM software serves as the best solution for any business to track and manage leads efficiently. The CRM for lead management is one such software platform that is integrated with business growth tools to analyze, track, categorize, manage and nurture leads, thereby converting them into prospects and helping you win new businesses. Catalystk CRM lead management software for small business is integrated with Lifetime free GST billing software, free CRM software, ERP software, AMC or Rental software, Inventory software, Manufacturing software, Artificial Intelligence ( AI ), and 500+reports. It's fully free with all the options. Click the link to register for free.
What is CRM software?
Customer Relationship Management or CRM as it is called is a strategy used by businesses to nurture and maintain good business relations with their customers. The primary benefit of CRM software is that it helps you to maintain long-term relations with customers, improve lead conversion and eventually achieve long-term business growth.
What is lead management in CRM?
Lead management is a process of tracking, analyzing incoming leads, and converting them into potential customers or business opportunities. A lead management system helps you keep track of all your customer information, prospects, and sales leads or deals, thereby boosting up the overall lead-to-sales conversion process.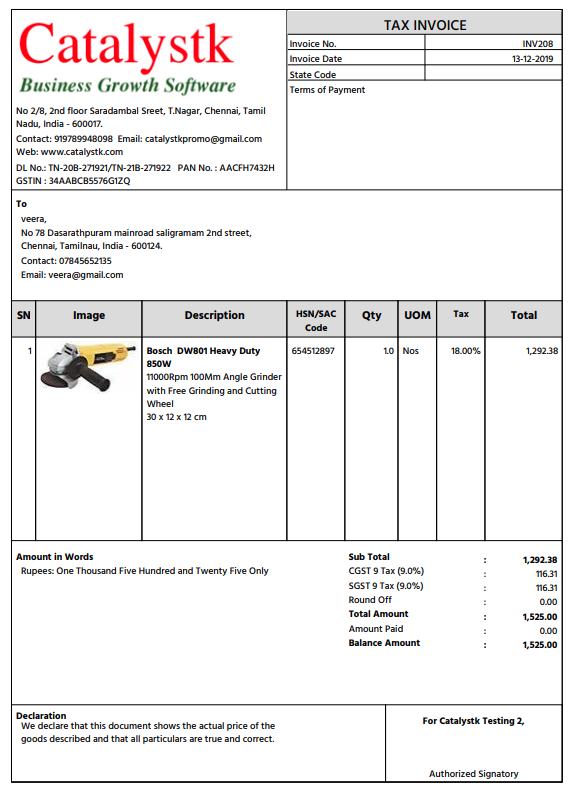 Catalystk CRM system eases lead conversion with features for lead auto-capture, followups, missed follow-up intimation, grouping, etc.
The CRM lead management system offered by Catalystk has web-based CRM tools to simplify lead management and conversion. Using the online CRM lead management software makes it easy to import, analyze and have quick access to all your lead and customer details. The software automates lead processing workflow with features such as lead grouping, lead auto-capture through business promotions, set follow-up reminders, missed follow-ups, track lead status, and retrieve reports of the same. Right from lead enquiry to processing of leads and converting them into business deals can be streamlined and simplified using the CRM software.
 CRM lead management software features:
Leads management
Deals management
Task management
Grouping
Follow Up
Estimation with tax
Invoice with tax
GST Calculations
Finance management
General Ledger
Client Ledger
Supplier Ledger
Pending Payments
Balance Sheet
Profit and Loss
Excel Uploads
Excel Download
Estimation with images
Estimation grouping products
Sales management
Procurement Management
Purchase Enquiry
Vendor Identification
Purchase Order
Goods Received Note
Goods Return
Purchase Invoice Verification
Purchase Invoice
Pending Purchase
Estimation without image
Email Quotation
SMS Quotation
Quotation Follow-ups
missed quotation follow-ups
Sales Order
DC
Sales Projections
Sales achievements
Return Received
HSN Code
Sales Work Flow
Manufacturing
Bill of Materials
MRP(Planning)
Job Work / Job Order
Work Order
Manufacturing process
Automated Sales Order, Invoice mailing system
Reports
Catalystk lead management CRM with add-on options to manage business deals, share proposals, quotations and improve sales growth.
Catalystk lead management system software simplifies deal management with options to convert leads into business deals with add-on options to assign leads to the sales team, set targets, and track sales team achievements. Furthermore, you can automate the sales workflow by providing tools to create and email professional business proposals or quotations straight away using the software platform. The reporting tool of the CRM gives a clear picture of business activities and produces useful reports such as lead processing reports, customer-wise reports, sales projections and other business reports.