Chat software for business enterprises to enhance communications 
Catalystk provides chat software for business organizations to improve communications among users and various teams within an organization. It is an all-in-one CRM software with chat tools that simplify interactions between salespersons, enhance lead processing thereby enhancing business relations with customers. Using the CRM software sales team can easily connect with each other, start a conversation, assign and schedule tasks, share information and documents ultimately simplifying the business workflow. Building a good rapport and business relations with customers helps to achieve long-term business growth and CRM software acts as an ideal tool to track leads, analyze business prospects, maintain customer interactions, monitor customers' status, and win sales deals efficiently. A CRM with a chat feature provides a complete automation solution for customer and sales management, from a single software platform. Catalystk CRM is an integration of Lifetime free GST billing software, free CRM software, ERP software, AMC or Rental software, Inventory software, Manufacturing software, Artificial Intelligence ( AI ), and 500+reports. It's fully free with all the options. Click the link to register for free.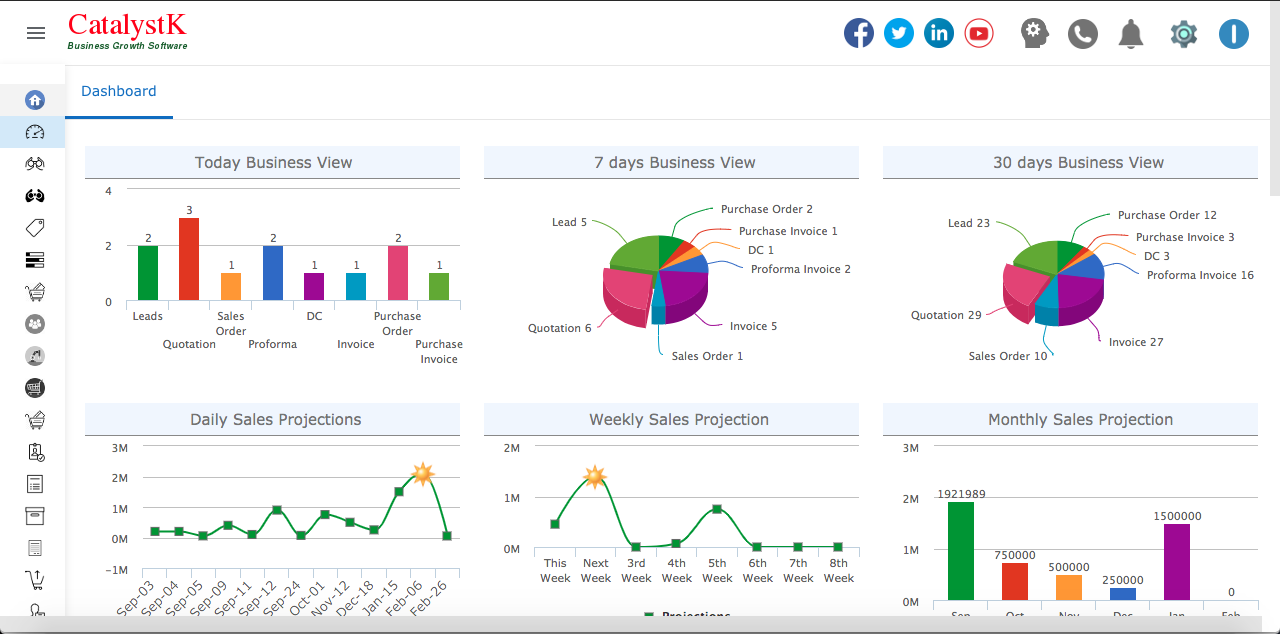 Catalystk CRM chat software with tools to monitor customer followups, missed follow-ups, schedule and assign tasks with notification reminders.
Catalsytk
chat software for small business
offers multiple
 online CRM tools
 to ease customer management and lead conversion. The quick and simple user interface of the software provides easy access to customer contacts, tools to upload, record, and monitor data efficiently with accurate reports of each. The CRM offers a wide variety of features that include - lead auto-capture through promotions, daily customer follow-up reminders, tracking missed follow-ups, customer grouping, lead assign, notification reminders, client-wise lead reports, and upload options to import the customer details. In addition to these, the sales team can manage sales deals, track sales projections, and close business deals efficiently.
CRM software features:
Leads management
Deals management
Task management
Notification reminders
Quotation grouping products
Quotation without image
Email Quotation
Quotation Follow-ups
Missed quotation follow-ups
Sales Order
DC
Return Received
Automated Sales Order, Invoice mailing system
Sales Projections
Sales achievements
HSN Code
GST Calculations
Finance management
General Ledger
Client Ledger
Supplier Ledger
Pending Payments
Profit and Loss
Sales management
Procurement Management
Purchase Enquiry
Vendor Identification
Purchase Order
Goods Received Note
Goods Return
Purchase Invoice Verification
Purchase Invoice
Pending Purchase
Sales Work Flow
Grouping
Follow Up
Excel Uploads
Excel Download
Reports
Catalystk chat CRM software provides add-on sales tools to share business quotations, create invoices and improve sales workflow.
Catalystk chat software is an integration of CRM and sales management tools with chat features to improve sales. The sales tools of the software help salespersons monitor deals, projections, prioritize deals, set sales targets, and many more. To automate and systemize the sales processing the system provides tools to maintain customer requirements, schedule sales visits, share professional sales quotations in multiple formats, order management, and generate GST invoices. The CRM produces useful business insights with daily, weekly, monthly, and yearly lead reports, quotation reports, client reports, product sales reports, and finance reports. 
Catalystk CRM with internal communication chat tools provides a one-stop solution for businesses to streamline the various functional unit such as customer management, sales management, quoting, and billing.