Business quote software for small business traders to ease quoting
A user-friendly and professional small business quote software template is provided by Catalystk embedded with multiple other business growth tools to enhance the sales process. The quotation software is integrated with a feature-rich business quotation template to improve the quote creation process. With the web-based quotation software, you can create professional-looking business quotes or sales proposals in less time. In addition to product description and prices, you can even enhance and generate personalized quotations with images, headers, and footers and share it straight away with your potential customers. The software not only simplifies quoting but also accelerates the overall sales process, thus helping you close business deals efficiently. Catalystk business quote software is integrated with Lifetime free GST billing software, free CRM software, ERP software, AMC or Rental software, Inventory software, Manufacturing software, Artificial Intelligence ( AI ), and 500+reports. It's fully free with all the options. Click the link to register for free.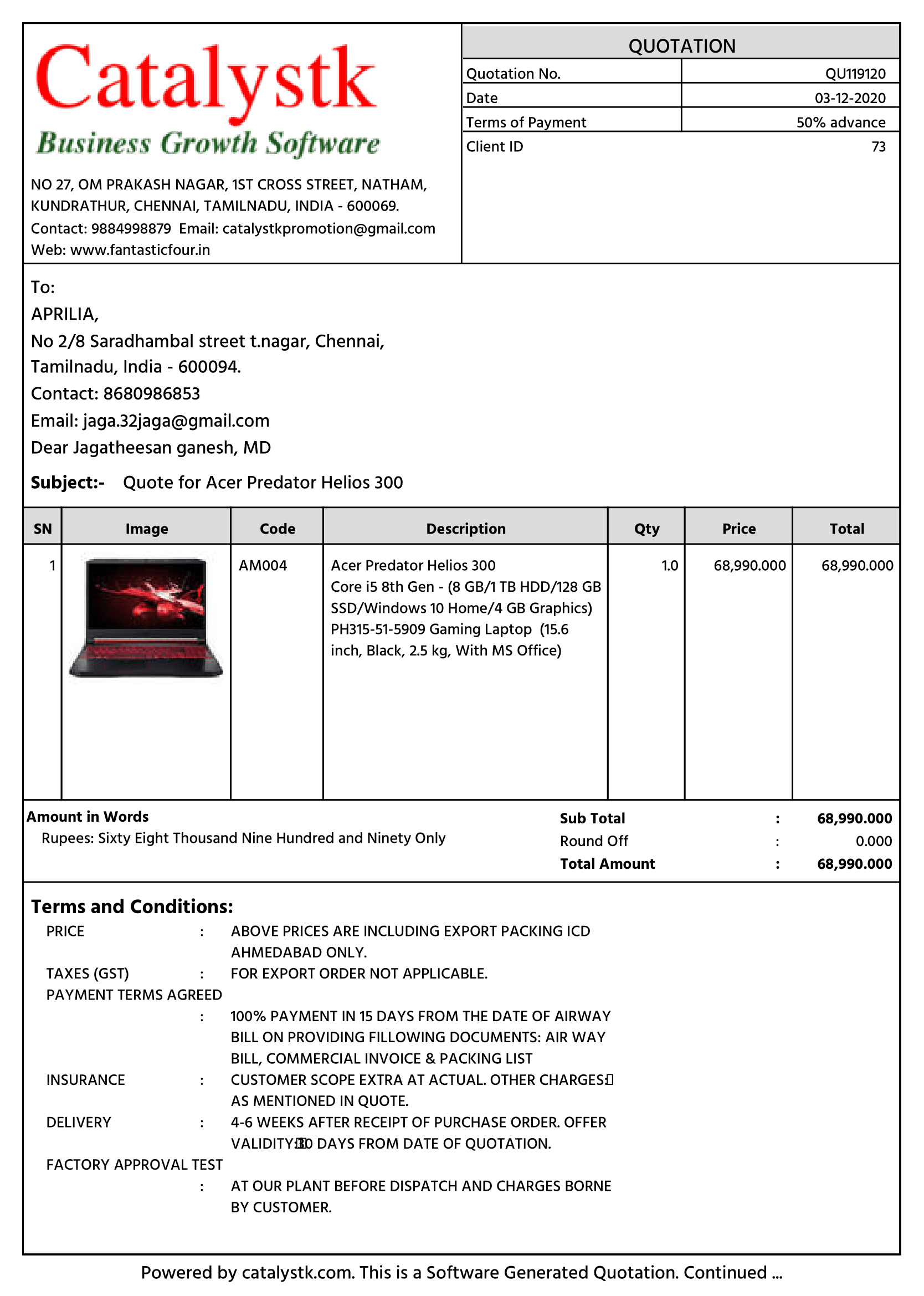 Catalystk provides a business quotation format to create, print mail GST quotations with images, company's letterhead, and custom data.
Catalystk business quotation software lets you generate and share quotations within seconds. Using the template, you can easily generate and write a business quotation letter with custom data, quote number, date, subject, notes, product images, price, discounts, logo, company's letterhead, signatures, quotation terms, and conditions. Furthermore, you can generate GST quotations with tax amounts, total, revise quotes and handle negotiations efficiently. Business quotes created can be delivered instantly using the quotation email template with file attachments for quick and easy approvals.

Steps to create and share quotations using business quote software:
Click the side menu option of "Home" and then click the "Quotation" tab.
Click "New Quotation" -> Enter the customer, product details -> Click "Save" to generate a business quotation format pdf.
Open any existing quotation -> use the "Download", "Print", "Mail" options to send the quotation to the customer.
Steps to generate quotation with images:
Click on Print settings
Enable Image -> Click Save and Now generate a quotation.
Free business quote generator software features:
Quotation with images
Quotation grouping products
Quotation without image
Email Quotation
Quotation Follow-ups
Missed quotation follow-ups
Sales Projections
Sales achievements
Deals management
Task management
Leads management
Sales Order
DC
Invoice
Return Received
HSN Code
GST Calculations
Finance management
General Ledger
Client Ledger
Supplier Ledger
Pending Payments
Profit and Loss
Sales management
Procurement Management
Purchase Enquiry
Vendor Identification
Purchase Order
Goods Received Note
Goods Return
Purchase Invoice
Pending Purchase
Follow Up
Excel Uploads
Excel Download
Automated Sales Order, Invoice mailing system
Reports
Catalystk business quote generator provides CRM tools to monitor quotation status, follow up quotations, and improve sales conversion.
The business quote software not only enhances quoting but also improves the quote tracking, and sales process by providing CRM tools. You can easily keep track of the quotations and approvals with features to assign quotes, add follow-up reminders, log customer conversations and quotation status. The software provides a clear picture of leads, prospects and helps you manage business deals efficiently. The reporting tool produces excel quotation reports with complete details about the quotes shared, approved, and failed proposal reports. As an add-on feature, you can easily convert approved quotes into invoices in a single click, thus providing you an ideal solution to manage the sales process.