Billing software with GST for small business traders
Billing software with GST is offered by Catalystk which is a web-based GST invoice software tool for small business traders to simplify invoicing. The billing software GST invoice template is integrated with built-in custom tools that allow generating customized and professional GST invoices with accuracy. With the online GST invoice software, you can generate and share bills instantly from anywhere without any hassle or bottlenecks. Businesses can easily move on from spreadsheet or paper-based billing to a systemized way of creating invoices. The software with its wide range of features helps you create tax invoices, facilitate stock management, log and track payments, and manage the billing process efficiently. Catalystk billing software is an integration of Lifetime free GST billing software, free CRM software, ERP software, AMC or Rental software, Inventory software, Manufacturing software, Artificial Intelligence ( AI ), and 500+reports. It's fully free with all the options. Click the link to register for free.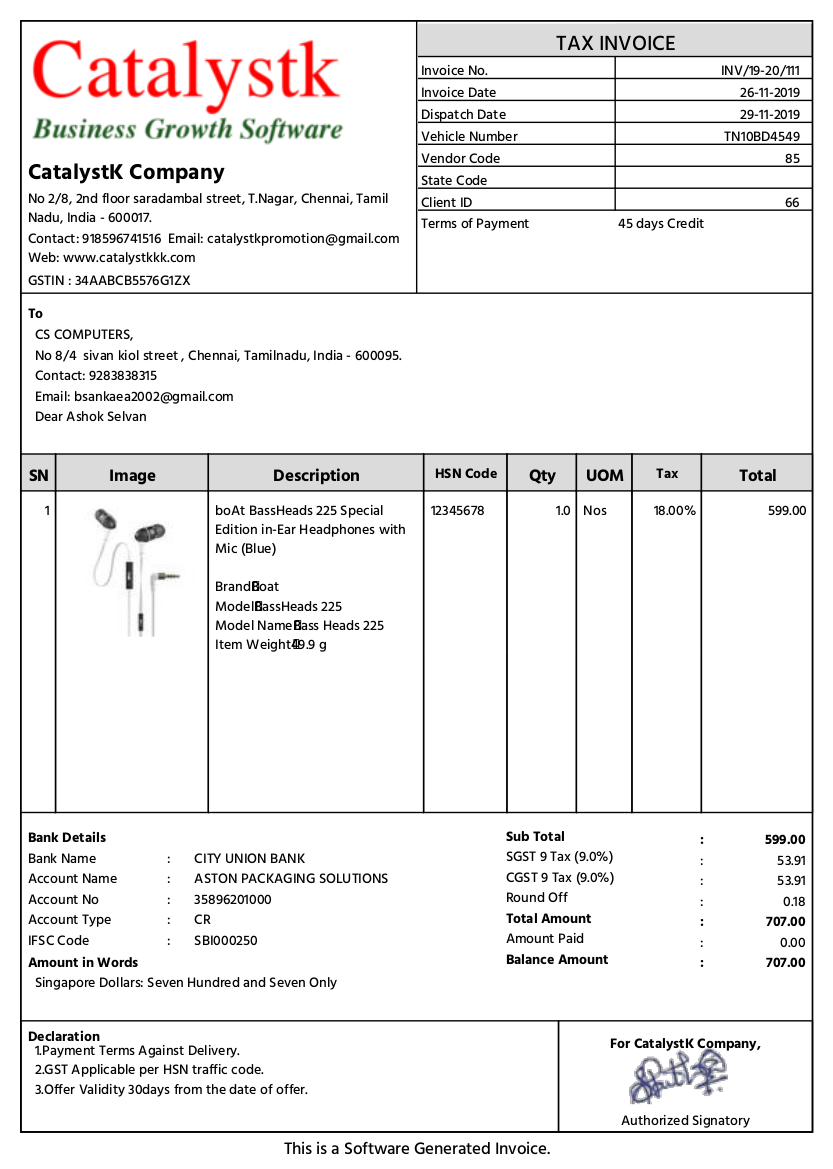 Catalystk GST billing software provides templates to generate, print, and mail tax exclusive and inclusive invoice formats.
Catalystk GST invoice software is integrated with a professional invoice template that lets you generate GST inclusive and exclusive invoice formats. Using the billing software with GST, you can create invoices within seconds with accurate prices, tax amounts, tax total, discounts, service charges, GSTIN, and payment terms. GST Invoices pdf can be printed, downloaded, or shared straight away from the application using the invoice email template. The invoice template also lets you edit invoices easily and share them with the company logo, digital signatures, images, custom invoice number format, and other additional information.
Steps to generate a tax invoice using Catalystk billing software:
Click the side menu option of "Home" and in the "Sales" tab, click the "Invoice" option.
Click "New Invoice" -> Enter the customer, product details with price, tax percent -> Click "Save" to generate a tax invoice.
Click the "Download" option to retrieve GST invoice pdf format.
Use the "Print", and "Mail" options to share tax invoices with the customer.
GST billing software features:
Invoice with tax
GST Calculations
Pending payments
Automated Sales Order, Invoice mailing system
Finance management
General Ledger
Client Ledger
Supplier Ledger
Pending Payments
Profit and Loss
Excel Uploads
Excel Download
Quotation with images
Quotation grouping products
Email Quotation
SMS Quotation
Quotation Follow-ups
missed quotation follow-ups
Sales Order
DC
Return received
Sales Projections
Sales management
Procurement Management
Purchase Enquiry
Vendor Identification
Purchase Order
Goods Received Note
Goods Return
Purchase Invoice Verification
Purchase Invoice
Pending Purchase
Deals management
Task management
Leads management
Reports
Catalystk invoice software with accounting tools to record sales transactions, payments, customer ledgers, vouchers and reports. 
The invoice software with GST provided by Catalystk is embedded with sales and business growth tools to manage sales transactions efficiently. The software provides a complete record of all sales transactions, ledgers, receipts, payments, overdue invoice reports with payment reminder options. With the enhanced reporting tool you can retrieve daily, weekly, monthly, and yearly invoice reports, customer reports, profit margin reports, sales reports, projections, and many more. The software serves as a complete automation tool to manage all core business processes such as invoicing, sales and distribution, inventory management, accounting, and reporting.