Billing software for inventory management of small-medium business
Catalystk free Billing software for inventory management is an integrated software suite specifically developed for small-scale and medium-scale business to maintain the inventory. Every business either trading or manufacturing involves products or goods that are maintained as inventory. Managing goods or products that are either purchased from a vendor or sold to the end-user is referred to as inventory maintenance. Goods and products can be differentiated from each other in which "goods" are the entities that are purchased or shipped for sales whereas "products" are the entities that are manufactured for purchase and sales. Some of the main functionalities of a good inventory management system are - updating the product stock, maintaining the report of stock-in and stock-out, tracking stock shipment details, invoice generation, maintaining supplier details and many more. Catalystk Billing software for inventory management is integrated with Lifetime free GST billing software, free CRM software, ERP software, AMC or Rental software, Inventory software, Manufacturing software, Artificial Intelligence ( AI ), and 500+reports. It's fully free with all the options. Click the link to register for free.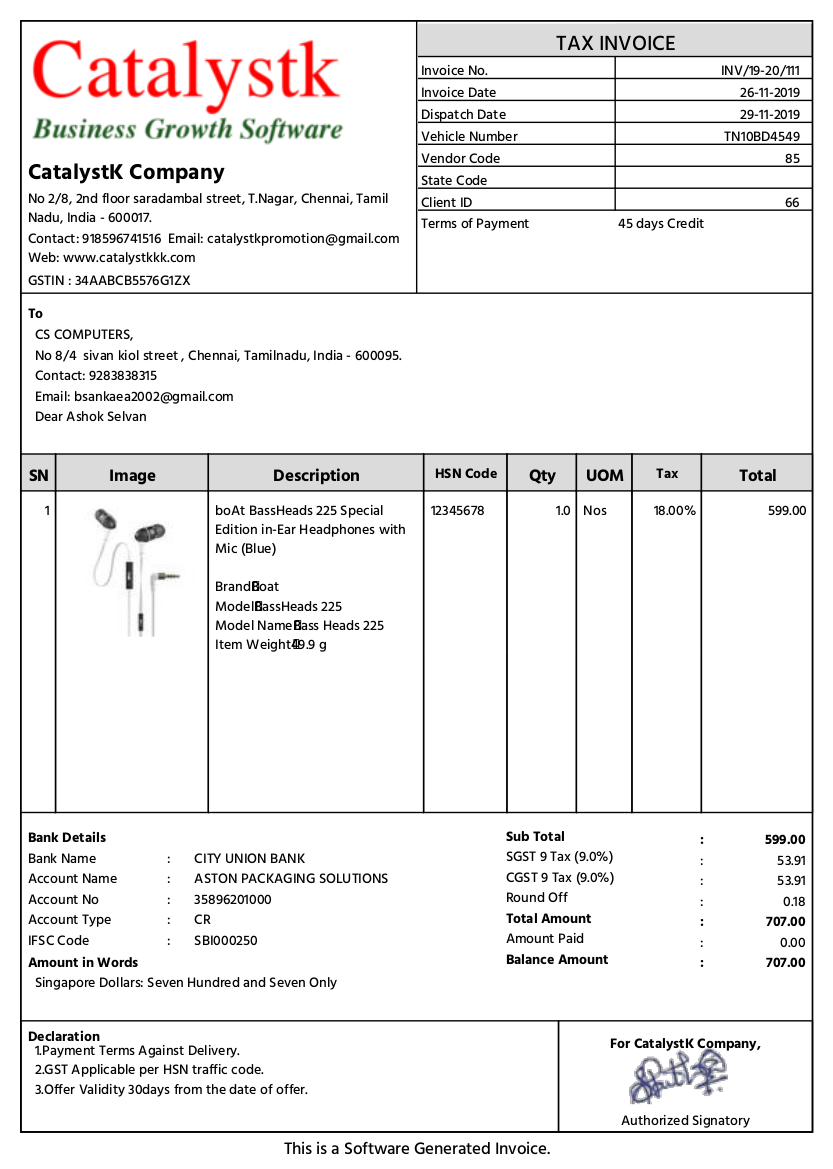 Billing software for inventory management allows categorizing products by group and generating quotation by grouping products
Product grouping is one unique feature that some traders and manufacturers prefer while purchasing or selling different products of similar types. This helps in categorizing products based on groups. Catalystk free billing software for inventory management provides a feature in the product module for adding groups and mapping each product to a particular group. Using this system you can also generate quotations and invoice by grouping products, grouping total, enabling/disabling tax columns, etc. In addition to this, you can also customize quotations and invoices according to business workflow and print them with multiple formats. Catalystk provides separate modules for maintaining inventory, purchase, sales and manufacturing unit.
Billing software for inventory management features:
Estimation with images
Estimation grouping products
Sales management
Procurement Management
Purchase Enquiry
Vendor Identification
Purchase Order
Goods Received Note
Goods Return
Purchase Invoice Verification
Purchase Invoice
Pending Purchase
Estimation without image
Email Quotation
SMS Quotation
Quotation Follow-ups
missed quotation follow-ups
Sales Order
DC
Invoice
Sales Projections
Sales achievements
Deals management
Task management
Leads management
Return Received
HSN Code
GST Calculations
Finance management
General Ledger
Client Ledger
Supplier Ledger
Pending Payments
Balance Sheet
Profit and Loss
Sales Work Flow
Manufacturing
Bill of Materials
MRP(Planning)
Job Work / Job Order
Work Order
Manufacturing process
Grouping
Follow Up
Excel Uploads
Excel Download
Automated Sales Order, Invoice mailing system
Reports
Catalystk free billing software for inventory management you can maintain product threshold details and damaged product details
One important facility that a good inventory management system must include is maintaining the product threshold details. The product threshold serves as an alert for keeping the product stock up to date and prevents the stock from reaching to zero levels. Using the catalystk system you can create a threshold for a product by specifying a "warning limit" and "alert limit" that gives an alert when the product stock reaches that threshold level. One advantage of this feature is that you can keep the stock updated thereby preventing stock unavailability and promoting sales growth. Using this software, you can also maintain damage stock details caused to some natural or unnatural factors by mapping the damage status details.