Best manufacturing software for small business to increase production
Catalystk free Best manufacturing software for small business provides software suitable for SMB manufacturers for increasing their production business leading to an increase in sales. Production business flow includes multiple processes to be managed efficiently such as material planning, material maintenance, process scheduling, cost determination, purchase management, supply management, etc. Catalystk incorporates almost all the features for production management such as generating Bill of Materials (BOM), Material Requirement Planning (MRP), placing work order and job order, cost estimation, invoice generation and many more. In other words, catalystk provides a software tool in which CRM and ERP are integrated together for managing the whole business flow. Catalystk free Best manufacturing software for small business integrated with Lifetime free GST billing software, free CRM software, ERP software, AMC or Rental software, Inventory software, Manufacturing software, Artificial Intelligence ( AI ), and 500+reports. It's fully free with all the options. Click the link to register for free.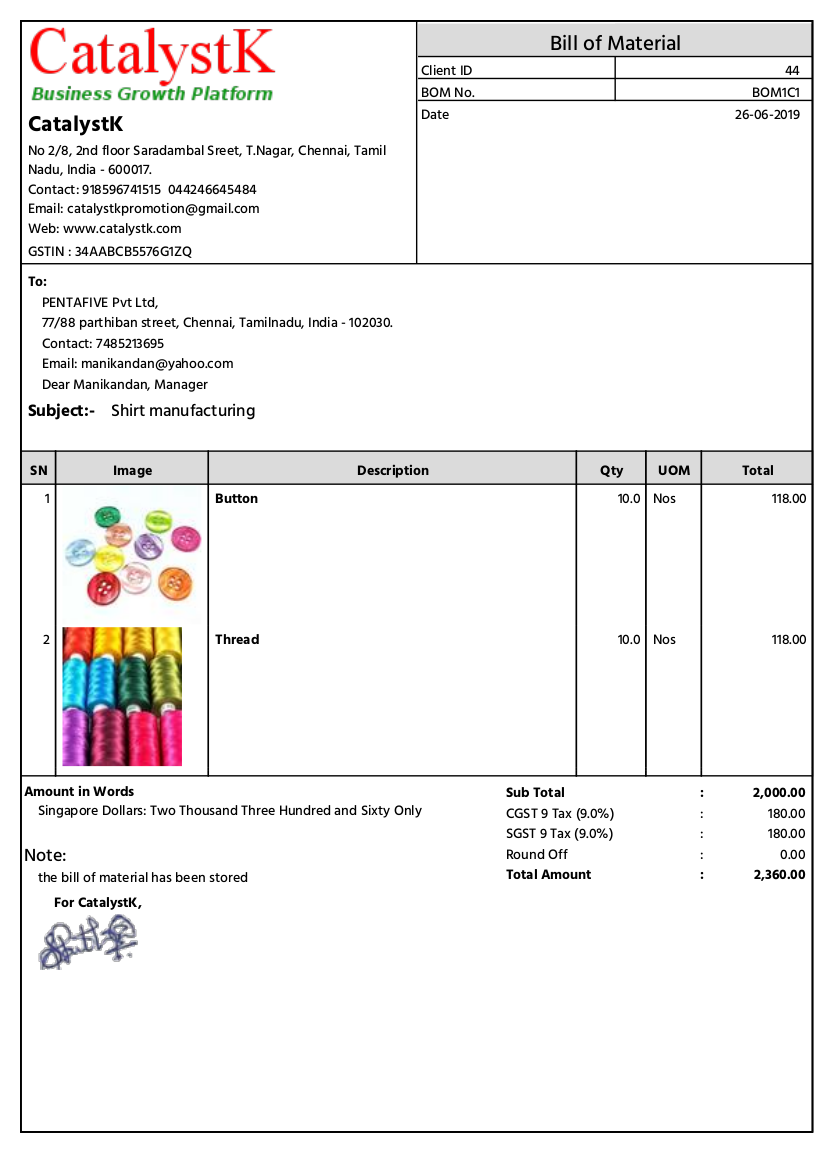 Free best manufacturing software for small business comes with material planning and production process scheduling features to attain customer satisfaction
The initial step of any production process is planning the materials required and the process of production. Material planning gives you an overall idea of the materials used in the production process such as - raw materials needed for production, the quantity of each raw material for manufacturing a single product and a whole lot of products, available stock, shortage of raw materials, cost incurred in raw materials and the whole production. After requirement planning, each and every process is scheduled for delivering the end product within the time constraint specified by the customer. Catalystk best manufacturing software for small business provides Materials Requirement Planning(MRP) module for planning resources and scheduling processes using start time and stop time feature in the work order module.

Best manufacturing software for small business features:
Manufacturing
Bill of Materials
MRP(Planning)
Job Work / Job Order
Work Order
Manufacturing process
Quotation with images
Quotation grouping products
Quotation without image
Email Quotation
SMS Quotation
Quotation Follow-ups
missed quotation follow-ups
Sales Order
DC
Invoice
Sales Projections
Sales achievements
Deals management
Task management
Leads management
Return Received
HSN Code
GST Calculations
Finance management
General Ledger
Client Ledger
Supplier Ledger
Pending Payments
Balance Sheet
Profit and Loss
Sales management
Procurement Management
Purchase Enquiry
Vendor Identification
Purchase Order
Goods Received Note
Goods Return
Purchase Invoice Verification
Purchase Invoice
Pending Purchase
Sales Work Flow
Grouping
Follow Up
Excel Uploads
Excel Download
Automated Sales Order, Invoice mailing system
Reports
Catalystk best manufacturing software for small business provides purchase and supply management modules for processing a particular manufacturing order 
A production process is interlinked with multiple units of business such as purchase unit, supply unit, and inventory unit. Producing an end product involves the usage and purchase of many raw materials from suppliers and updating the raw materials stock. As a result purchase and inventory modules become a necessity for managing a production business. Catalystk provides a purchase master module for placing a purchase order, purchase invoice, goods received notes (GRN), and supplier details management. Once the product is manufactured, the stock is updated the sales order is processed. Catalystk system provides a sales master module for placing sales order, quotation, invoice, delivery note, etc. With such an integrated system production business management becomes much easier and reliable.