Best CRM tool for small business to maintain good customer relations
Catalystk offers one of the best CRM tools in India which is a cloud-based integrated software system for small business traders and manufacturers to build and maintain long-term customer relations eventually leading to business growth. Customers are the backbone behind any successful business, therefore maintaining a good rapport with the customer is essential to keep the business growing. A good customer relationship management software must include features that can track the customer's needs and satisfy their needs through regular follow-ups. Catalystk CRM provides one of the best software tools for customer relationship management embedded with features such as lead management, tracking client follow-ups, analyzing business prospects, deal management, with accurate lead reports and business insights. Catalystk CRM tool is an integration of Lifetime free GST billing software, free CRM software, ERP software, AMC or Rental software, Inventory software, Manufacturing software, Artificial Intelligence ( AI ), and 500+reports. It's fully free with all the options. Click the link to register for free.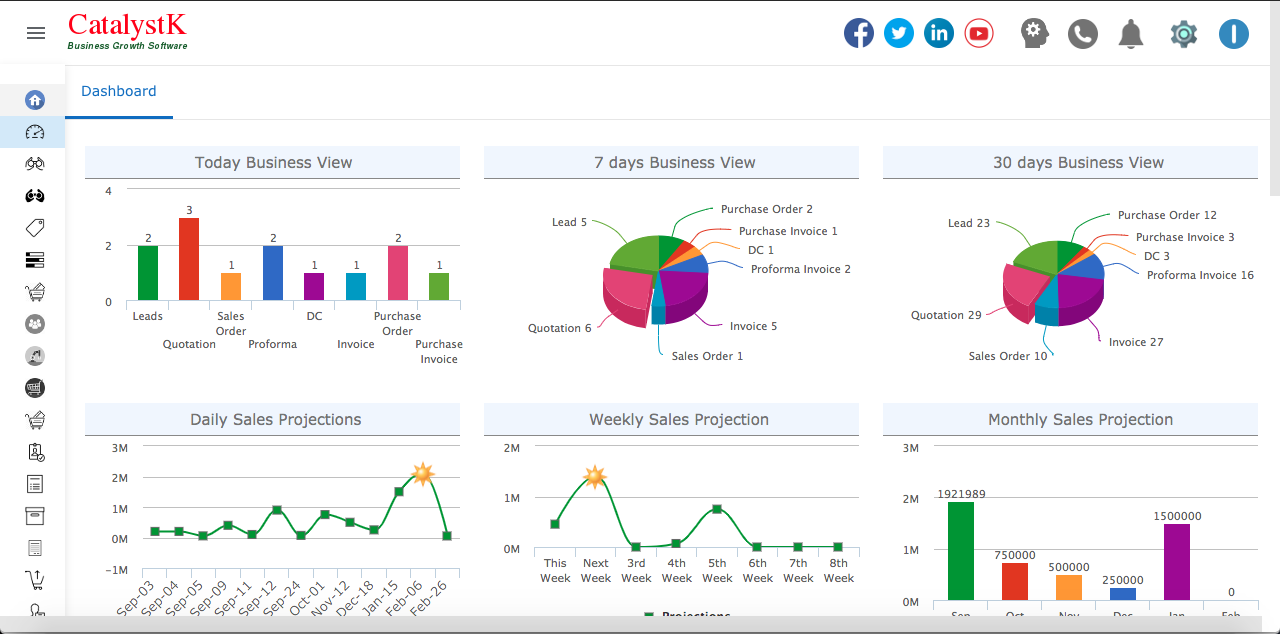 Catalystk CRM software tools embedded with unique features such as contact management, tracking daily customer follow-ups, missed follow-up intimations, grouping, etc.
Client requirement varies according to the business flow, thus understanding and satisfying the customer needs is essential in every business to build good customer relations. Catalystk
CRM software
provides features to maintain lead contacts, track customer followups on a daily basis, missed follow-up intimations, and log conversations. Also, the CRM provides customer grouping to categorize leads, business prospects and have quick access to your client details. You can even map promotions, lead status, manage and prioritize business deals, assign leads, and streamline the lead conversion process. The system simplifies lead management with an excel upload option to import customer data.
Best CRM tool features:
Leads management
Deals management
Task management
Grouping
Follow Up
Excel Uploads
Excel Download
Quotation grouping products
Quotation without image
Email Quotation
Quotation Follow-ups
Missed quotation follow-ups
Sales Order
DC
Invoice
Sales Projections
Sales achievements
Return Received
HSN Code
GST Calculations
Finance management
General Ledger
Client Ledger
Supplier Ledger
Pending Payments
Balance Sheet
Profit and Loss
Sales management
Procurement Management
Purchase Enquiry
Vendor Identification
Purchase Order
Goods Received Note
Goods Return
Purchase Invoice Verification
Purchase Invoice
Pending Purchase
Sales Work Flow
Automated Sales Order, Invoice mailing system
Reports
Catalystk provides one of the best CRM software with tools for supply chain management, generating quotations, invoices, etc.
Customer satisfaction can be achieved only when their requirements are delivered precisely within the time constraints. Catalystk CRM system provides tools to generate and share professional-looking business proposals and win business deals efficiently. Using sales CRM software, businesses can even automate the supply chain process with features for sales order management, creating, revising, and customize quotations, generate tax invoices, manage material dispatch, and retrieve sales reports. Such multiple and unique features in a single system provide businesses a one-stop solution to enhance customer relationships and promote sales and business growth.