Best CRM for small business India to build good customer relationship
Catalystk free Best CRM for small business India is a cloud-based software tool for SMB traders and manufacturers to manage the small-scale business needs. Customer relationship is an important factor for improving the financial condition of any business. A Customer Relationship Management (CRM) software tool can help in the growth of small-scale business in multiple ways such as improving the customer base, support, and management, thus leading to sales growth. Catalystk CRM tool lets you build good customer relationships through lead and sales management, thereby making it a one-stop solution for business growth. Catalystk free Best CRM for small business India is integrated with Lifetime free GST billing software, free CRM software, ERP software, AMC or Rental software, Inventory software, Manufacturing software, Artificial Intelligence ( AI ), and 500+reports. It's fully free with all the options. Click the link to register for free.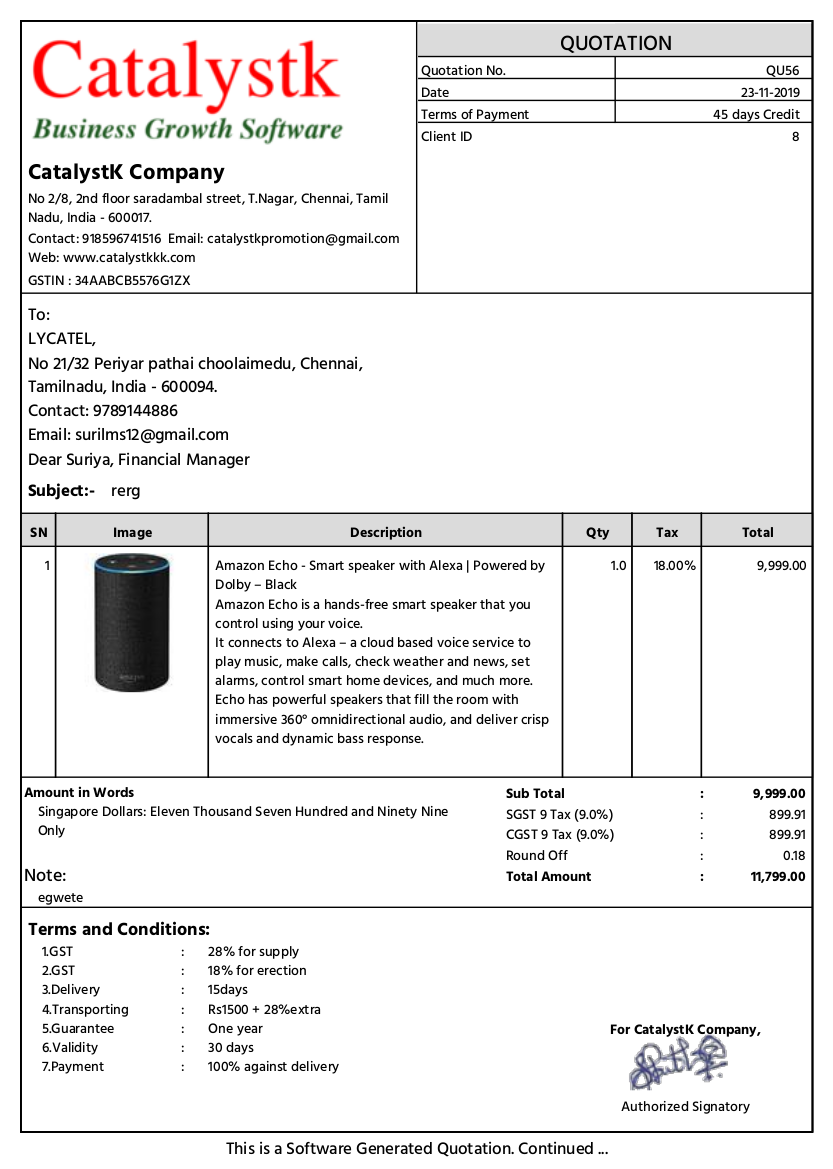 Catalystk Best CRM for small business India provides efficient lead management with followup features, thereby leading to sales conversion
Leads are nothing but information about a client or company that has expressed an interest in the product or services provided by a particular organization. A good lead management system must provide features for converting the leads to potential customers. Catalystk CRM provides an efficient lead management system with multiple features such as today followup, missed followup, record conversations, customer grouping, mapping promotions, mapping workflow, etc. Additionally, the system also integrates deal management to track, monitor and close sales deals effectively. Such integration of lead and deal management together makes the system a suitable one for CRM management and sales conversion.
Best CRM for small business India features:
Leads management
Deals management
Task management
Client Follow-ups
Estimation with images
Estimation grouping products
Estimation without image
Email Quotation
SMS Quotation
Quotation Follow-ups
missed quotation follow-ups
Sales Order
DC
Invoice
Sales Projections
Sales achievements
Return Received
HSN Code
GST Calculations
Finance management
General Ledger
Client Ledger
Supplier Ledger
Pending Payments
Balance Sheet
Profit and Loss
Sales management
Procurement Management
Purchase Enquiry
Vendor Identification
Purchase Order
Goods Received Note
Goods Return
Purchase Invoice Verification
Purchase Invoice
Pending Purchase
Sales Work Flow
Manufacturing
Bill of Materials
MRP(Planning)
Job Work / Job Order
Work Order
Manufacturing process
Grouping
Follow Up
Excel Uploads
Excel Download
Automated Sales Order, Invoice mailing system
Reports
Best CRM for small business India for managing the supply chain to deliver customer needs by generating sales orders, quotations, invoices, etc.
Once the leads are converted to sales leads the next step is to manage sales and deliver the customer requirements. A good sales management system must provide features for tracking customer requirements and delivering the requirements precisely, thus attaining customer satisfaction. Managing sales involves generating multiple documents such as quotations, proforma invoices, sales orders, and sales invoices. Best CRM for small business India has a separate module for managing supply chain such as managing sales requirements, generating quotations, invoices, etc with followup features embedded into it. Furthermore, the system also includes a purchase module, reports module, and finance module to manage the workflow of small business efficiently.