Accounting software for manufacturing small business maintenance
Catalystk Accounting software for manufacturing small business is a system that is dedicated to SMB Manufacturers to manage the various accounts of the production process. Unlike other business, manufacturing business involves more complexity as the products to be sold are built from scratch. As a result, lots of accounts have to be maintained by the manufacturers such as maintaining raw materials account and the cost incurred in them, maintaining finished item accounts, purchase order accounts, sales order accounts and many more. Catalystk free Accounting software for manufacturing small business is integrated with Lifetime free GST billing software, free CRM software, ERP software, AMC or Rental software, Inventory software, Manufacturing software, Artificial Intelligence ( AI ), and 500+reports. It's fully free with all the options. Click the link to register for free.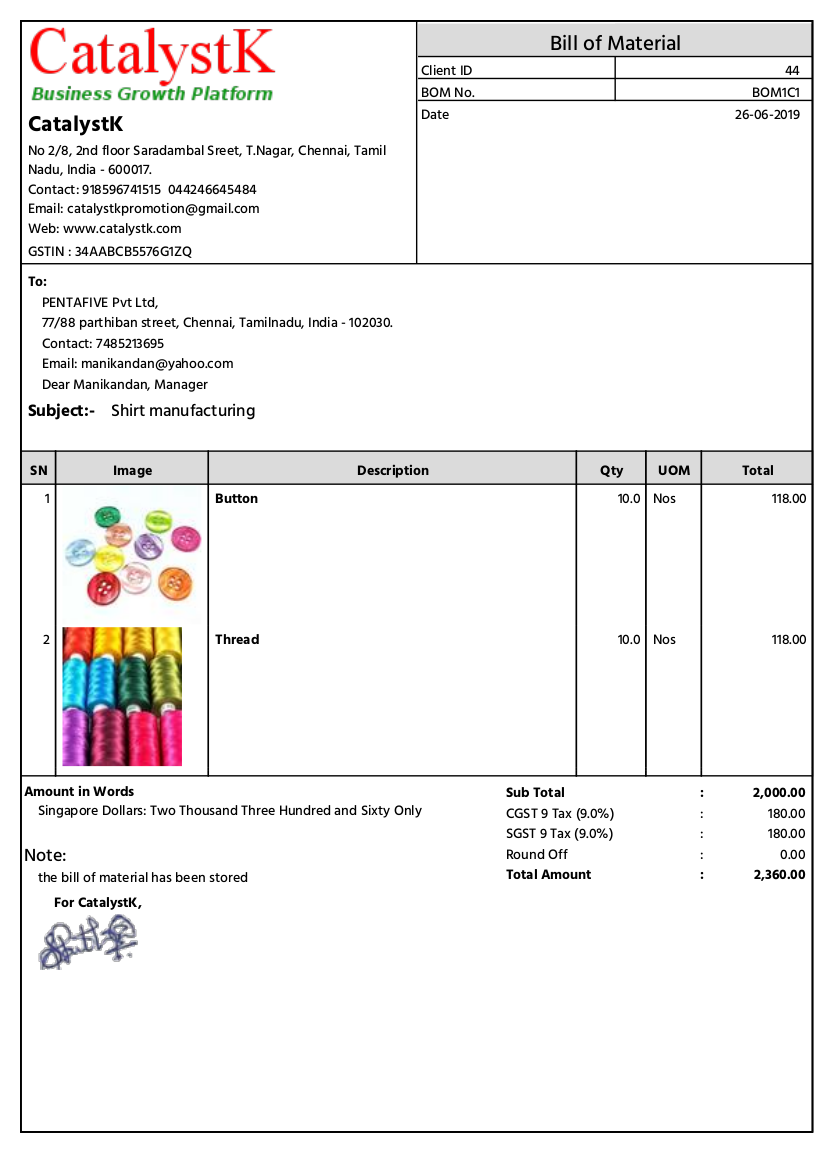 Accounting software for manufacturing small business, provide facility for maintaining accounts for the wastage of raw materials
Manufacturing a product from scratch in bulk quantity requires the usage and allocation of lots of raw materials. Such a scenario may also lead to wastage of some raw materials. Some manufacturers prefer maintaining accounts for such wastage of raw materials. One advantage of maintaining this is that the wastage can be recycled and used for the other production process making the whole manufacturing process a cost-effective one. Catalystk free accounting software for manufacturing small business provides features for keeping a record of usage, allocated and wastage of raw materials occurred while processing a particular manufacturing order.

Accounting software for manufacturing small business features:
Manufacturing
Bill of Materials
MRP(Planning)
Job Work / Job Order
Work Order
Manufacturing process
Quotation with images
Quotation grouping products
Quotation without image
Email Quotation
SMS Quotation
Quotation Follow-ups
missed quotation follow-ups
Sales Order
DC
Invoice
Sales Projections
Sales achievements
Deals management
Task management
Leads management
Return Received
HSN Code
GST Calculations
Finance management
General Ledger
Client Ledger
Supplier Ledger
Pending Payments
Balance Sheet
Profit and Loss
Sales management
Procurement Management
Purchase Enquiry
Vendor Identification
Purchase Order
Goods Received Note
Goods Return
Purchase Invoice Verification
Purchase Invoice
Pending Purchase
Sales Work Flow
Grouping
Follow Up
Excel Uploads
Excel Download
Automated Sales Order, Invoice mailing system
Reports
Free Accounting software for manufacturing small business helps to process purchase and sales order along with manufacture
Manufacturers can be defined as someone who builds a product from scratch and sells it to the customer rather than selling stock like retailers. Building a product from scratch requires buying raw materials from vendors and selling the manufactured product requires maintaining customer details, inventory, etc. Using catalystk free accounting software for manufacturing small business purchase orders and sales orders can be processed in a reliable way. It provides features for customer relationship management with client followups, inventory stock maintenance, generating purchase order and sales order, generating quotations, invoices, managing sales visits, reports generation, ledger management, bill of materials, material requirement planning, processing work/job order for manufacturing, etc.