Catalystk free Price quotation excel template to create quotations
Catalyst Free Quote Excel Template is a software tool created specifically to generate quotes or ratings in many formats. A "price quote" is an agreement between a seller and a customer. Catalystk Quote Excel makes it easy to create quotes with accurate and precise details. Quotes in many forms. Quotation formats generally contain information about the vendor, customer, product/goods to be delivered, product cost, payment information, terms, and conditions, etc. Catalystk software allows you to generate n number of quotations and revised quotations and within minutes and also generate quotations in multiple formats. Catalystk free quotation excel template is integrated with Lifetime free GST billing software, free CRM software, ERP software, AMC or Rental software, Inventory software, Manufacturing software, Artificial Intelligence ( AI ), and 500+reports. It's fully free with all the options. Click the link to register for free.
How do you make a price quote in Excel?
The price quotation excel template provided by Catalystk can be used to generate price quotes with all details in pdf format and can be easily converted into Excel.
Price quotation excel template software benefits:
Helps to negotiate the product price, terms, etc.
Attract customers with product image quotations.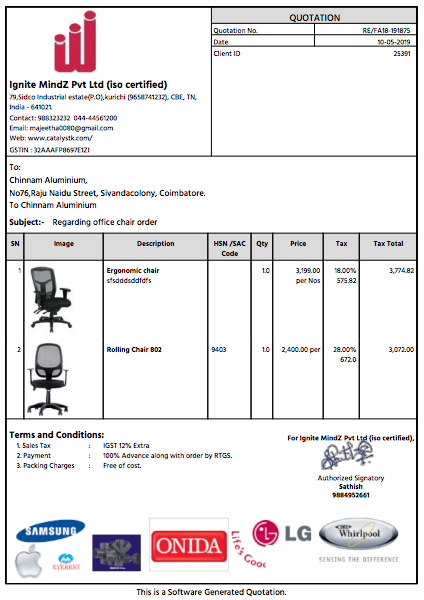 Catalystk free Price quotation excel template provides multiple enable/disable options in print settings to print quotations according to the business flow.
Excel
quote template
varies according to the user requirements and business workflow. Catalystk 
quotation follow up template excel
, allows you to customize quotations according to your needs with multiple enable/disable options in print settings such as printing quotations with or without images, enable/disable product description column, print quotations with/without terms and conditions, etc. Further more, the system allows you to revise existing quotations and create n number of revised quotations. You can also assign quotations to the sales team and track quotations on a daily basis by mapping follow-up date/time.
Catalystk Price quotation excel template features:
Quotation with images
Quotation grouping products
Quotation without image
Email Quotation
SMS Quotation
Quotation Follow-ups
missed quotation follow-ups
Invoice
Proforma Invoice
Sales Order
DC
Return Received
HSN Code
GST Calculations
Finance management
General Ledger
Client Ledger
Supplier Ledger
Pending Payments
Balance Sheet
Profit and Loss
Sales management
Procurement Management
Purchase Enquiry
Vendor Identification
Purchase Order
Goods Received Note
Goods Return
Purchase Invoice Verification
Purchase Invoice
Pending Purchase
Sales Work Flow
Grouping
Follow Up
Excel Uploads
Excel Download
Automated Sales Order, Invoice mailing system
Reports
Catalystk free Price quotation excel template to retrieve quotations in multiple ways such as print, mail, download quotations, and report generation.
Catalystk excel quote template provides multiple ways to retrieve and send quotations such as printing quotations in A4 size, letterhead and small size, mail quotations to the customer, SMS quotation details, and download quote templates sheet excel. Additionally, you can download 500+ quotation reports in excel format with multiple filter options such as daily, weekly, monthly and yearly quotation reports, client-wise quotation reports, failed quotation reports, etc. With such multiple features, quotations can be generated and sent to the customer in a faster and reliable way and it also speeds up the sales process.
Price quotation excel template generation steps:
1. Click the side menu option of "Home" and then click the "Quotation" tab.
2. In the "Quotation" tab options, Click "New Proposal" button.
3. Fill the details of customer, product and price details.
4. After entering all details, Click "Save" to view your new price quotation.
NOTE: For any clarifications Kindly contact the support team.