Free download quotation format in pdf to create sales quotations
Free download quotation format in pdf, is a cloud-based online software system that facilitates quotation pdf format or estimate generation. A sales quotation is a legal document that is presented to the clients which includes details such as the sales products or services provided at an estimated price. A business involves generating multiple numbers of quotations and maintaining such quotations manually or in excel does not provide a good solution. Catalystk eases and enhances the quotation generation process wherein you can track, monitor, and generate n number of quotations or estimations with multiple unique features embedded into it. Catalystk free Free download quotation format in pdf is integrated with Lifetime free GST billing software, free CRM software, ERP software, AMC or Rental software, Inventory software, Manufacturing software, Artificial Intelligence ( AI ), and 500+reports. It's fully free with all the options. Click the link to register for free.
Steps to download quotation format in pdf 
1. Click the side menu of "Sales" and then click the "Quotation" tab.
2. In the quotation tab click the "New quotation" button -> enter the client, price details, or service-based work details and click save to generate a quotation.
3. Open any existing quotation -> click the "download" button to download the quotation format in pdf.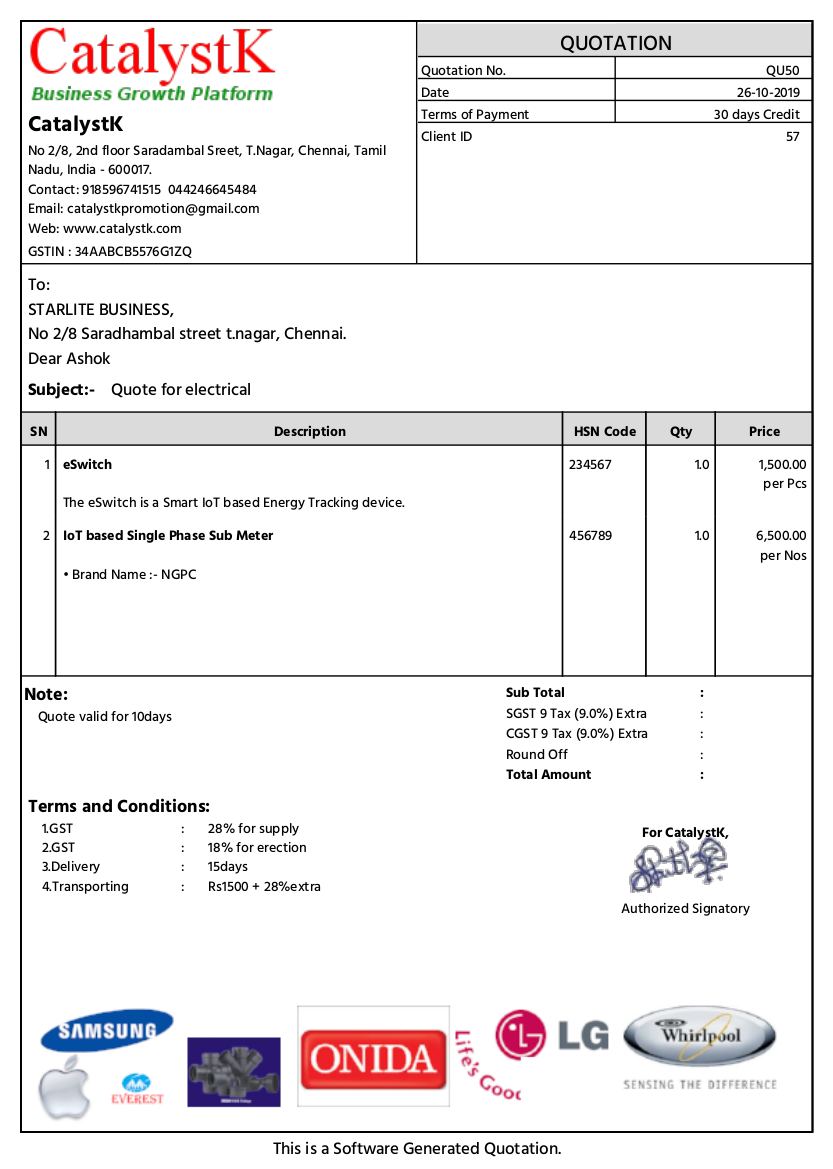 Catalystk free download quotation format in pdf provides download, mail, print, and letterhead option to get the quotation in pdf format.
Quotation format pdf free download
 must be in such a way that it caters to the needs of the customers and is profitable to the business as well. Catalystk
quotation format pdf
 provides a separate module for "quotations" with n number of options embedded into it. It provides tools for creating new quotations, revising existing quotations, retrieving quotations in multiple print formats such as A4 size, letterhead, and small size, downloading quotations, mail quotations to customers, etc. Additionally, the system provides a quotation follow-up feature to track the quotations on a daily basis. This speeds up the quotation approval process and eases the sales conversion.
Free download quotation format in pdf features:
Quotation with images
Quotation grouping products
Quotation without image
Email Quotation
SMS Quotation
Quotation Follow-ups
missed quotation follow-ups
Invoice
Proforma Invoice
Sales Order
DC
Return Received
HSN Code
GST Calculations
Finance management
General Ledger
Client Ledger
Supplier Ledger
Pending Payments
Balance Sheet
Profit and Loss
Sales management
Procurement Management
Purchase Enquiry
Vendor Identification
Purchase Order
Goods Received Note
Goods Return
Purchase Invoice Verification
Purchase Invoice
Pending Purchase
Sales Work Flow
Grouping
Follow Up
Excel Uploads
Excel Download
Automated Sales Order, Invoice mailing system
Reports
Catalystk free download quotation format in pdf to maintain and manage sales quotation in new, existing, and revised versions.
Catalysk quotation format pdf download provides a "sales" master module where multiple other legal documents such as invoices, sales orders, quotation pdf can be generated. The system provides features where you can generate proforma invoices, sales orders and tax invoices in a single click from the quotations generated. The system includes multiple other features such as product grouping, adding new inventory products, editing customer details from quotations, tracking the failed proposals/quotations, etc. Furthermore, you can retrieve 500+ sales reports such as customer reports, quotations reports, invoice reports, high selling product reports, financial reports, etc with excel download option.