Purchase management software India to manage procurements
Catalystk purchase management software is a web-based software platform provided for all small businesses in India to automate and manage their daily procurements. Monitoring material purchases become essential for businesses to maintain inventory, manage production and sales orders efficiently. In this digital era, manual or paper-based work slows down the business progress and might also result in the inaccuracy of data. As a result, systemizing the procurement or purchase workflow serves as an ideal solution. Online purchase order management helps you streamline the entire procurement-to-pay process where you can generate, share purchase orders, record and track the supplies purchased, maintain inventory stock and retrieve reports of the same. It is a fully integrated business growth software embedded with multiple tools for organizations to accelerate and simplify the purchase order life cycle. Catalystk purchase management software is integrated with Lifetime free GST billing software, free CRM software, ERP software, AMC or Rental software, Inventory software, Manufacturing software, Artificial Intelligence ( AI ), and 500+reports. It's fully free with all the options. Click the link to register for free.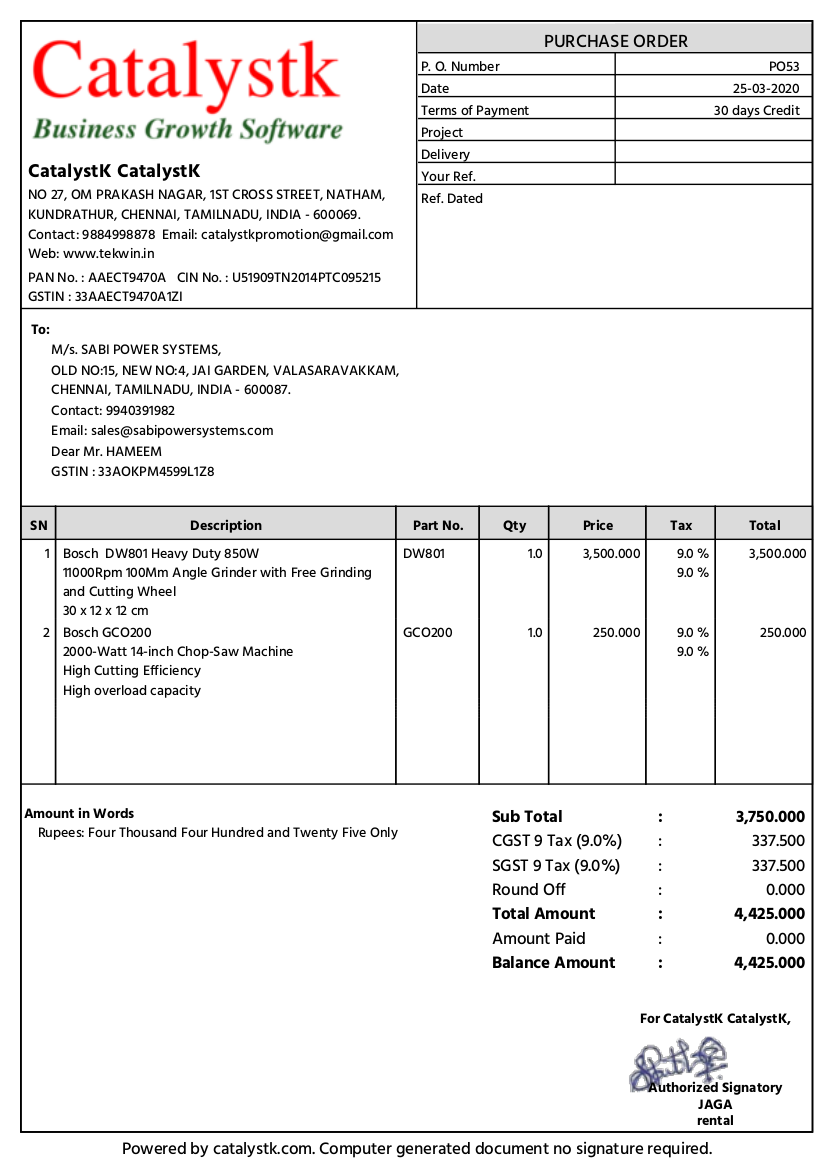 Catalystk procurement management software helps to create, mail, share and track purchase orders from a single interface.
Purchase order management software by Catalystk serves as a one-stop solution using which you can generate, share and monitor purchase orders from a single system. The purchase order software lets you import vendor contacts, analyze potential vendors, place purchase enquiry, generate POs and send them instantly via the PO mail template. The simple PO template allows you to create purchase orders in less time with business logo, authorized signatures, PO terms, billing address, shipping address, product specification, etc. With the software's unique custom number format system, you can keep track of the PO issued, the purchase order status, material shipped and received, pending orders, and purchase returns. Purchase invoices can be recorded and maintained to keep track of the vendor payments.

Steps to generate PO using Catalystk purchase management software:
Click the side menu option of "Home" and under the "Purchase" tab click "Purchase Order".
Click "New Purchase Order" -> Use the search options to fill in supplier and product details.
Click "Save" to generate a purchase order format pdf.
Use the "Print" and "Mail" options to share the PO with the supplier.
Purchase management software features:
Procurement Management
Purchase Enquiry
Vendor Contact Management
Vendor Identification
Purchase Order
Goods Received Note
Goods Return
Purchase Invoice Verification
Purchase Invoice
Pending Purchase
HSN Code
GST Calculations
Finance management
General Ledger
Client Ledger
Supplier Ledger
Pending Payments
Inventory Management
Profit and Loss
Product grouping
Quotation with images
Quotation grouping products
Revised Quotation
Quotation without image
Email Quotation
Quotation Follow-ups
missed quotation follow-ups
Proforma Invoice
Sales Order
DC
Invoice
Sales Projections
Sales achievements
Deals management
Task management
Leads management
Return Received
Sales management
Sales Work Flow
Grouping
Follow Up
Excel Uploads
Excel Download
Automated Sales Order, Invoice mailing system
Reports
Catalystk purchase management system with tools to update inventory stock, manage supplier ledgers, purchase transactions and download daily purchase reports.
Catalystk procurement software has been developed with enhanced tools that make it easier for enterprises to manage inventory and purchase transactions. From updating the daily stock, the purchase management system provides a complete view of the quantity procured with the purchase date, vendor details, buying price, and total stock value. The system lets you record and maintain all purchase transactions, supplier ledgers, payments, track outstanding amounts, generate receipts, vouchers, and manage other expenses. You can download purchase transaction reports such as purchase order reports, supplier reports, monthly product purchase reports, and other business reports in excel format.