Proforma Invoice Creator helps to generate free proforma invoice maker
Proforma invoice creator helps to create a proforma invoice for free. It's a document that is sent to the customer requesting for sales. This proforma invoice creator should have all the information like a sale invoice. It is also known as a duplicate invoice. In Catalystk, you can create the proforma invoice with all the relevant informations. Catalystk Software provides a proforma invoice creator that allows you to generate a proforma invoice from anywhere which improves your sales growth.
Catalystk is an all in one free software with quotation making software, free CRM software, free GST invoice software, ERP software, manufacturing software, helpdesk software, AMC management software, inventory management and 500+ reports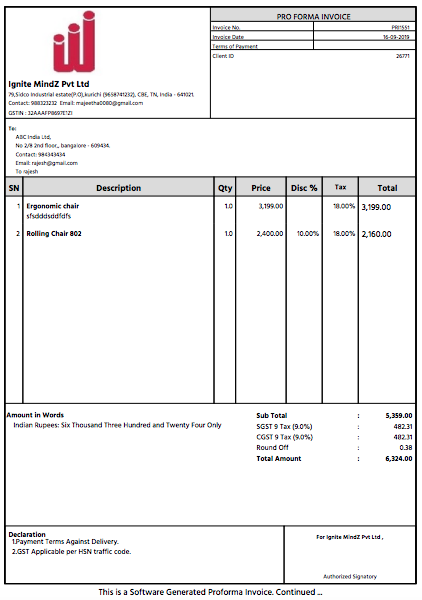 Catalystk offers proforma invoice creator with a free proforma invoice maker in excel and word with download.
Proforma invoice creator is a proforma invoice maker software which allows you to create proforma with image, discount, note option, branding image in the bottom, HSN code, part number etc according to your needs. Catalystk online proforma invoice creator can be Printed, downloaded, mailed to the clients, and printed in the letterhead. The existing proforma invoice creator can also be revised. Catalystk proforma invoice creator can be created within seconds, which thereby saves time. The proforma invoice maker allows the buyer to create sales creation which finally makes them confirm the order.
Some of the Catalystk features are:
Lead Management
Sales
Quotation
Proforma Invoice
Sales Order
DC
Return Received
HSN Code
GST Calculations
Invoice
Manufacturing
Bill of materials(BOM)
MRP(planning)
Work Order
Job Order
Wastage management
inventory management
production management
Sales Projection
Sales achievements
Deal management
Task management
Missed follow-up
Today follow up
Sales visits
Email Invoice
SMS Billed details
Quotation with images
Quotation without image
Email Quotation
Finance management
General Ledger
Client Ledger
Supplier Ledger
Pending Payments
Balance Sheet
Profit and Loss
Sales management
Procurement Management
Purchase Enquiry
Vendor Identification
Purchase Order
Goods Received Note
Goods Return
Purchase Invoice Verification
Purchase Invoice
Pending Purchase
Sales Work Flow
Grouping
Follow Up
Excel Uploads
Excel Download
Automated Sales Order, Invoice mailing system
Reports
Catalystk provides proforma invoice creator that helps users with the proforma invoice maker in excel, PDF and word download
Proforma invoice generator steps in Catalystk:
1. Click the side menu option, Click the Sales Tab, then Click the proforma invoice tab.
2. In the proforma invoice tab, fill the client details and item list details and click Save.
3. After saving, the proforma invoice can be downloaded, printed in A4 sheet, printed on letterhead, and also mailed to the customers.