Free quotation builder software automates the construction business
Catalystk free quotation builder software is a simple, fast, and efficient software used for architects, engineers, construction managers, and contractors to quote construction costs for a specific project. A building is constructed with a roof of weathering course, walls, pillars, concrete flooring, etc for which prior quotation should be calculated. Construction cost quotation is the process of forecasting the cost of building a physical structure. Construction cost quotation includes the expense incurred by a builder for labor, materials, equipment, financing, services, utilities, etc. Catalystk free quotation builder software can generate all quotations such as budget quotation, material quotation, manpower quotation, etc automatically and also can be maintained separately. Catalystk free quotation builder software is integrated with Lifetime free GST billing software, free CRM software, ERP software, AMC or Rental software, Inventory software, Manufacturing software, Artificial Intelligence (AI), and 500+reports. It's fully free with all the options. Click the link to register for free.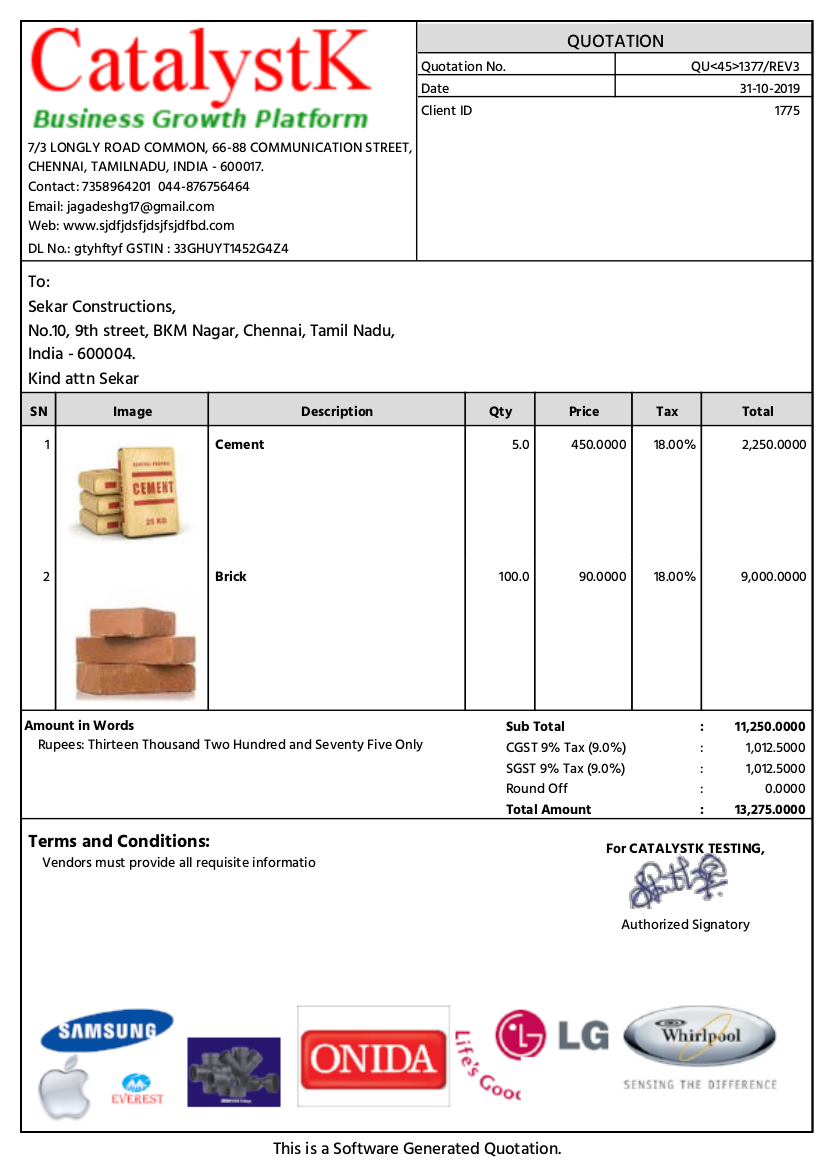 Catalystk full version free quotation builder software is an efficient software with unique features of customizing, enabling and disabling options, the logo of the company, with header and footer images, with multiple terms and conditions, etc
Catalystk offers full version 
free quotation builder software
for building projects. Contractors use cost estimates to determine project scope and feasibility and to allocate budgets. A good cost quotation prevents the builder from money and helps the customer avoid overpaying. For builders, a good cost quotation wins the job. In a competitive situation, the time and effort for preparing the quotations are a cost of doing business in winning the job. Free quotation builder software gives the facility for preparing the quote faster to win. 
Free quotation builder software features:
Quotation with images
Quotation without image
Email Quotation
Invoice
Proforma Invoice
Sales Order
DC
Return Received
HSN Code
GST Calculations
Finance management
General Ledger
Client Ledger
Supplier Ledger
Pending Payments
Balance Sheet
Profit and Loss
Sales management
Procurement Management
Purchase Enquiry
Vendor Identification
Purchase Order
Good Received Note
Goods Return
Purchase Invoice Verification
Purchase Invoice
Pending Purchase
Sales Work Flow
Grouping
Follow Up
Excel Uploads
Excel Download
Automated Sales Order, Invoice mailing system
Reports
Catalystk provides free Quotation builder software full version with grouping total, multiple print settings, with and without images, etc
The free building construction quoting software is a powerful software that helps businesses in creating accurate quotes, generating detailed proposals and reports, and alerting quotation follow up by mobile apps effectively. Easier to create, follow and maintain quotation with or without images online for free. Stock maintenance with the delivery note and goods received is maintained properly in inventory. The report can be created for all materials used in building construction and also report is used to identify the development of an establishment or the updates regarding the construction phases of building and other structures. The used material and wastage material is also maintained that is comparatively used for good quotation. Catalystk free quotation builder software is an efficient and reliable software that is used for quotation in building construction. It is a very cost-effective solution. You can maintain all your business operations in a single software free download.