Free invoice and quotation template download for small business
Catalystk Free invoice and quotation template download is a software for small trading and manufacturing businesses to generate price quotes and tax ready invoices in a professional way. "Quotation" and "Invoice" are the two major documents that are issued and presented to the customer during sales transactions Quotation includes details about the products or services provided at a proposed price and the invoice includes details about the product or services along with the payment information. Manual or paper-based work in generating such legal documents may cause errors and also does not provide a better solution. The Free invoice and quotation template eases and enhances the process of generating such sales documents with multiple unique features embedded into it. Catalystk Free invoice and quotation template is integrated with Lifetime free GST billing software, free CRM software, ERP software, AMC or Rental software, Inventory software, Manufacturing software, Artificial Intelligence ( AI ), and 500+reports. It's fully free with all the options. Click the link to register for free.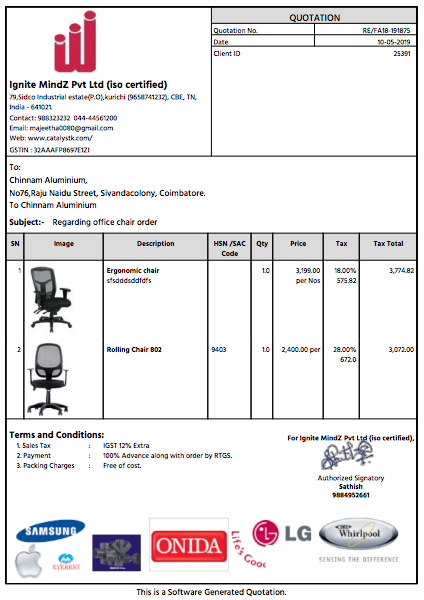 Catalystk Free invoice and quotation template to generate and retrieve quotations, revised quotations, and GST invoices in multiple formats.
The Free invoice and quotation template provides varied options by which you can generate quotations and invoices in multiple formats according to the business and customer requirements. The software provides options where you can generate quotations and invoices with product images and generate them in different print sizes such as A4 size, letterhead, and small size, thus making it suitable for all small business sectors. The documents generated can be sent immediately to the customers via mail along with multiple attachments, thereby enhancing the sales conversion rate. Additionally, you can also retrieve these documents in pdf format. The quotations generated can also be revised based on customer negotiation in a single click. The software also provides other options such as managing sales visits, generating sales orders, delivery challan/note, and many more to manage all the functional activities of the sales process. 
Free invoice and quotation template features
Quotation with images
Quotation without image
Email Quotation
Invoice
Proforma Invoice
Sales Order
DC
Return Received
HSN Code
GST Calculations
Finance management
General Ledger
Client Ledger
Supplier Ledger
Pending Payments
Balance Sheet
Profit and Loss
Sales management
Procurement Management
Purchase Enquiry
Vendor Identification
Purchase Order
Goods Received Note
Goods Return
Purchase Invoice Verification
Purchase Invoice
Pending Purchase
Sales Work Flow
Grouping
Follow Up
Excel Uploads
Excel Download
Automated Sales Order, Invoice mailing system
Reports
Catalystk Free invoice and quotation template integrated with CRM and inventory software to enhance the sales and distribution process.
Catalystk Free invoice and quotation template is embedded with leads and product master module to maintain the customer and product database, thus eliminating the need to re-enter the details each time you generate a quotation, invoice, or other sales documents. It also provides an upload feature to import bulk amount of excel data. The leads module provides good customer followups, lead auto-capture features and the product module provides the inventory stock details with complete purchase history and features like product grouping, product threshold, etc. The software also gives complete day-to-day reports of sales processes such as quotation reports, invoice reports, product sales reports, goods dispatch reports, sales transaction reports, etc. The Free invoice and quotation template simplifies the sales process and promotes sales growth.