Free construction quotation template for all contractors and builders
Catalystk Free construction quotation template is software for builders and contractors which can automate the construction process. The first step involved in a construction project is determining the scope, feasibility, and budget of the project. Project scope and feasibility can only be determined by generating and managing multiple quotations and revised quotations. Project quotation plays a major role in all types of the construction process. Quotation gives a detailed description of the project, cost incurred, and the time required to complete the project. These are the facilities that a contractor or builder expects from a good construction quotation software. In Catalystk CRM, all builders and contractors can easily generate the quotation within minutes for the entire project that they are going to work. Catalystk Free construction quotation template is integrated with Lifetime free GST billing software, free CRM software, ERP software, AMC or Rental software, Inventory software, Manufacturing software, Artificial Intelligence ( AI ), and 500+reports. It's fully free with all the options. Click the link to register for free.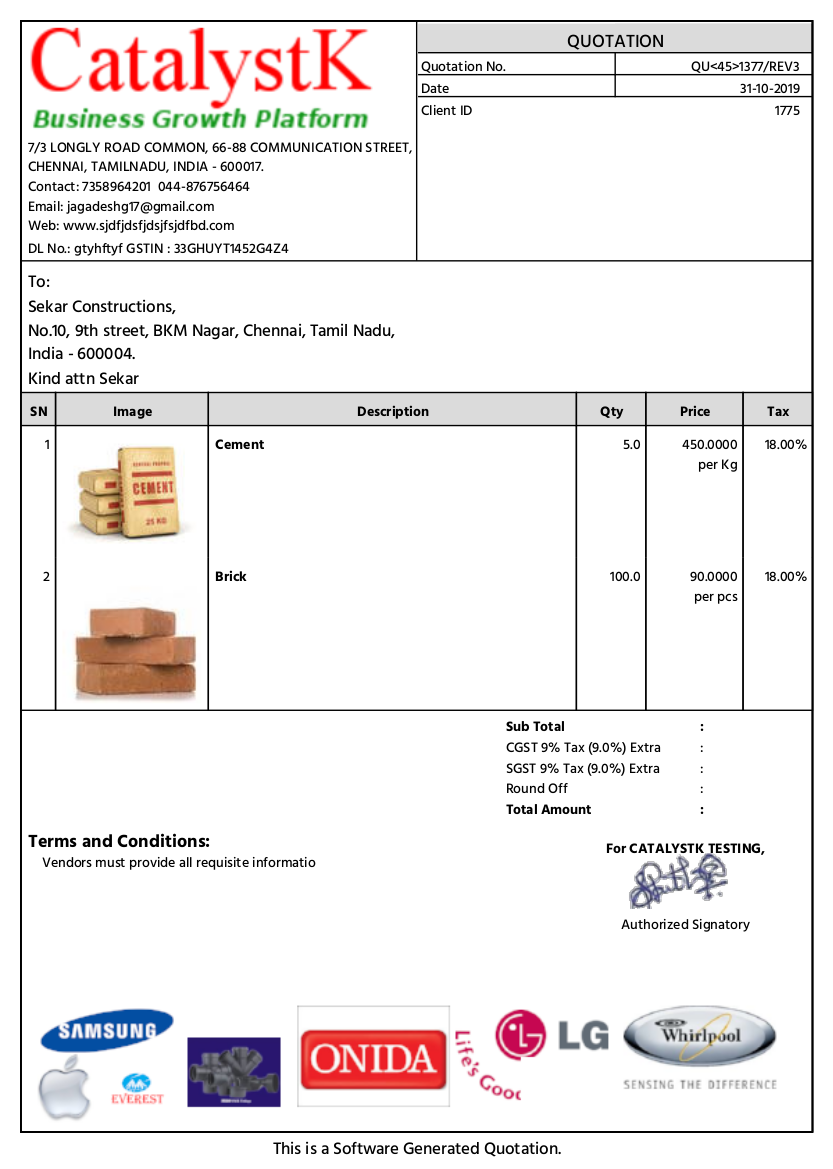 Catalystk offers Free Construction Quotation Template full version for all construction based companies with the required features of customization for free download
Catalystk free construction quotation template includes all the facilities for good quotation template generation such as generating quotations, revising quotations, printing quotations in multiple formats, generating reports, downloading quotations, material maintenance, grouping materials, invoice generation and many more. With such features. catalystk free construction quotation template becomes an all in one solution for automating the construction business process. The customization feature allows customizing a quoted quotation template with multiple formats by just enabling and disabling the options. It is also interlinked with the sales module, purchase module, and finance module. The sales module provides full tracking of sales with a full-fledged ERP workflow and followups. The purchase module provides purchase inquiry, purchase order, goods received note, etc. Finance module provides general ledger, balance sheet, Profit and loss, etc. Leads is the CRM module that contains customer details and it helps you to optimize your entire business.
Free Construction Quotation Template features:
Quotation with images
Quotation without image
Email Quotation
Invoice
Proforma Invoice
Sales Order
DC
Return Received
HSN Code
GST Calculations
Finance management
General Ledger
Client Ledger
Supplier Ledger
Pending Payments
Balance Sheet
Profit and Loss
Sales management
Procurement Management
Purchase Enquiry
Vendor Identification
Purchase Order
Goods Received Note
Goods Return
Purchase Invoice Verification
Purchase Invoice
Pending Purchase
Sales Work Flow
Grouping
Follow Up
Excel Uploads
Excel Download
Automated Sales Order, Invoice mailing system
Reports
Catalystk provides Free Construction Quotation Template with multiple terms and conditions, print templates, with and without images, with hiding quotation bottom total, etc.
In construction projects, builders or contractors maintain various types of quotations as per the requirements of the client and the project. Requirements of the user and the project quotation change as the project progress towards completion. As a result, quotations also change with changing requirements, for instance, material requirements may increase or decrease, labor requirements may change, etc. In such cases, contractors, look for a reliable system that can provide a feature for revising quotations. Catalystk free construction quotation template is embedded with all the features of a good construction quotation software with multiple terms and conditions which can be just selected by one click. It improves your sales, tracks all the customer conversations, maintains very good followups and meetings and so on. It's the best cost-effective solution. You can maintain all your business operations in a single software that generates multiple types of quotation templates for all types of construction based companies.