Free construction estimate forms download for construction projects.
Catalystk software provides Free Construction estimate forms download, with all features suitable for the construction business. As the construction projects have been drastically increasing, a builder needs to construct his project with the precise estimation that he quotes for his construction. To make a precise estimation such projects require an automation system that can maintain the whole of the construction business process. To manage the construction projects contractors have to maintain multiple estimations such as material estimation, cost estimation, manpower estimation, time estimation and many more. Such estimations are necessary for determining the level of viability of the construction project. Catalystk free construction estimate forms download is integrated with Lifetime free GST billing software, free CRM software, ERP software, AMC or Rental software, Inventory software, Manufacturing software, Artificial Intelligence ( AI ), and 500+reports. It's fully free with all the options. Click the link to register for free.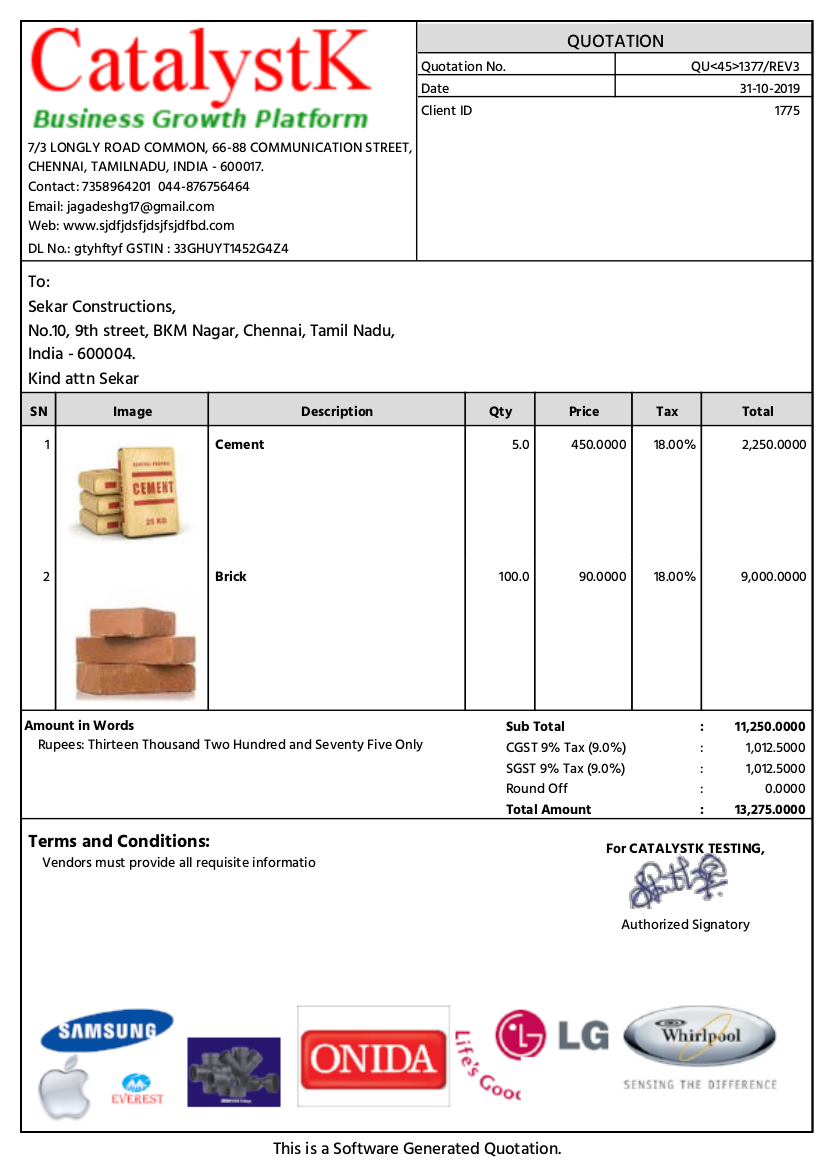 Free construction estimate forms download provides an estimation with unique template and customizable features according to a company's flow
Catalystk allows estimation for all types of construction projects with n number of enabling and disabling features that can also be customized. A construction business will have to estimate the expenditure of the concerned construction project. As and when the project is nearing the completion the estimated estimations vary according to the requirements of the project. catalystk provides to revise any number of estimations necessary for determining the budget of the construction project. The estimation can be done by grouping total so that the builder can group his project requirements to know the exact value of his entire project. The quoted and revised estimations can be printed with multiple printing options like with and without total, with and without images, with and without tax total, with and without the bottom total, etc. The preview can be viewed by downloading as pdf, can be mailed directly to the customer, can be printed in the letterhead of a company. The reports of all the generated estimations can be downloaded as excel.
 Free construction estimate forms download features:
Quotation with images
Quotation without image
Email Quotation
Invoice
Proforma Invoice
Sales Order
DC
Return Received
HSN Code
GST Calculations
Finance management
General Ledger
Client Ledger
Supplier Ledger
Pending Payments
Balance Sheet
Profit and Loss
Sales management
Procurement Management
Purchase Enquiry
Vendor Identification
Purchase Order
Good Received Note
Goods Return
Purchase Invoice Verification
Purchase Invoice
Pending Purchase
Sales Work Flow
Grouping
Follow Up
Excel Uploads
Excel Download
Automated Sales Order, Invoice mailing system
Reports
Catalystk free construction estimate forms download software generates the estimation with logo, header images, footer images, etc in a presentable way.
Presenting estimations to the customer is the most important part after generating estimations. Estimations must be presented in such a way that it gives a professional look when presented to the customer. Catalystk free construction estimate forms download software can be printed in multiple formats like the company name, log, a company's header images, with all the company's branded images as footer images, etc. It can also be done with multiple customizations according to their business flow. Some of the add-on features of the CRM are client followups, Quotation followups, track the failed quotations, inventory maintenance, managing purchase, and sales process and generating reports, etc. It improves your sales, tracks all the customer conversations, customer workflow/ status, maintains very good followups and meetings. A very cost-effective solution for all the SMB traders and manufacturers, in which you, can maintain all your business operations in a single software.