Free billing web application for all SMB traders and manufacturers.
Catalystk Free billing web application is a CRM and ERP software that is well suited for all SMB traders and manufacturers for billing and managing the business process. Billing is also known as invoicing and a process of generating invoices for any services rendered, it can be a purchase or a sale or a maintenance service. Invoices form an essential part of any business type such as B2B, B2C, etc and it acts as proof of any business transactions done with the third party. Catalystk provides billing by generating a purchase order, purchase invoice, quotations, proforma invoice, sales order, sales invoice, etc with unique features embedded into it. As an add-on feature, it facilities inventory management, CRM management, and production process. Catalystk Free billing web application is integrated with Lifetime free GST billing software, free CRM software, ERP software, AMC or Rental software, Inventory software, Manufacturing software, Artificial Intelligence ( AI ), and 500+reports. It's fully free with all the options. Click the link to register for free.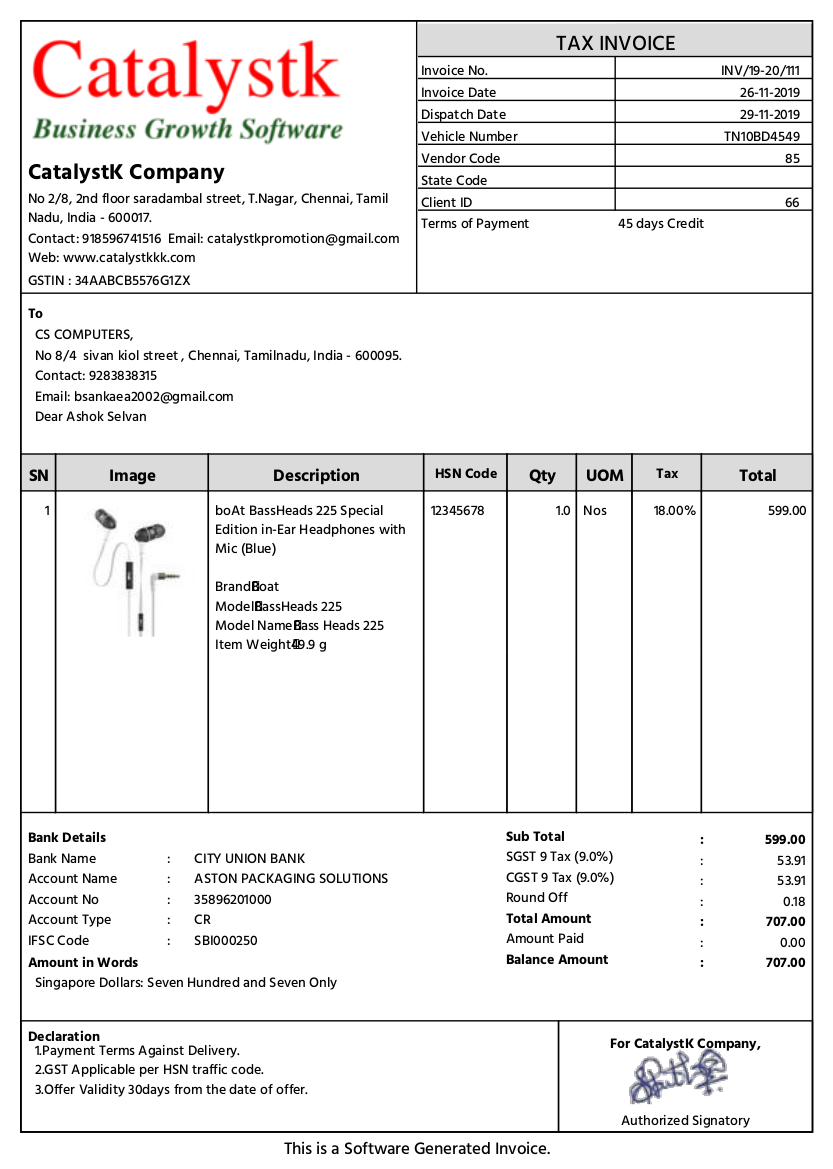 Catalystk offers best Free Billing web application download that manages all the business activities of the quotations, sales invoice, purchase orders, purchase invoice, tracking of payments, etc in an easy and a professional way
The free billing web application download can be accessed in the remote server to maintain all the business activities through the web browser. This free billing web application full version provides separate modules for inventory, purchase, sales, and manufacturing units. It can maintain all types of products such as inventory, raw materials, and service products with multiple formats of products with image, specifying the tax percent, etc. An add on feature of product management is that the sales and purchase order can be generated in an easy way thereby generating quotations, proforma invoice, purchase order, sales order, and tax invoices in an effective manner. The other unique features also include modules that can manage vendor details, delivery notes, goods received notes and many more. This web application is a GST Ready software with a combination of Sales, Finance, Purchase, Inventory, Help desk, and CRM modules. Finance module provides general ledger, balance sheet, Profit and loss, etc. The sales module tracks the entire sales functionalities with a full-fledged ERP workflow. The purchase module provides purchase order, Goods received note, etc. Leads is the CRM module that manages all the customer details to optimize the entire business activities. This is an enterprise resource planning module that is interlinked with other modules can be customized based on needs. It can generate more than 400+ reports.
Free billing web application features:
Invoice
Email Invoice
SMS Billed details
Quotation with images
Quotation without image
Email Quotation
Quotation
Proforma Invoice
Sales Order
DC
Return Received
HSN Code
GST Calculations
Finance management
General Ledger
Client Ledger
Supplier Ledger
Pending Payments
Balance Sheet
Profit and Loss
Sales management
Procurement Management
Purchase Enquiry
Vendor Identification
Purchase Order
Goods Received Note
Goods Return
Purchase Invoice Verification
Purchase Invoice
Pending Purchase
Sales Work Flow
Grouping
Follow Up
Excel Uploads
Excel Download
Automated Sales Order, Invoice mailing system
Reports
Catalystk provides Free Billing web application of multiple options for invoice retrieval such as printing invoice, mail invoice, the invoice in letterhead, and download invoice report
In general, business differs in their own ways based on the workflow, the type of business, and the clients they deal with. These types of crucial situations can be handled easily by using a web application that can provide them with the flexibility to fulfill the changing requirements of the customers. Catalystk free billing web application provides multiple features for generating and managing invoices and invoice reports. The generated invoice can be mailed and print the invoice in three different ways such as printing in A4 size, small size, and letterhead format. All the invoices can also download as invoice reports in excel format based on the workflow, client reports, etc with the date and time period filter options. The free billing web application generates other reports such as lead reports, purchase reports, sales reports, finance reports, supplier reports, etc. It improves your sales by business growth tools, tracks all the customer conversations, maintains very good followups and meetings.