Free billing tracking software that generates an invoice for traders
Catalystk Free billing tracking software, is a business growth tool for SMB traders and manufacturers to improve the invoicing or billing process with features to create and manage tax invoices or bills. Invoicing or billing is a process of recording a transaction between a buyer and seller in the form of a legal document called "invoice" or "bills". A company when generating a manual invoice document always takes a maximum amount of time that slows down the invoice process. The free billing tracking software generates invoices within minutes with multiple formats in a professional way. Catalystk free billing tracking software is integrated with Lifetime free GST billing software, free CRM software, ERP software, AMC or Rental software, Inventory software, Manufacturing software, Artificial Intelligence ( AI ), and 500+reports. It's fully free with all the options. Click the link to register for free.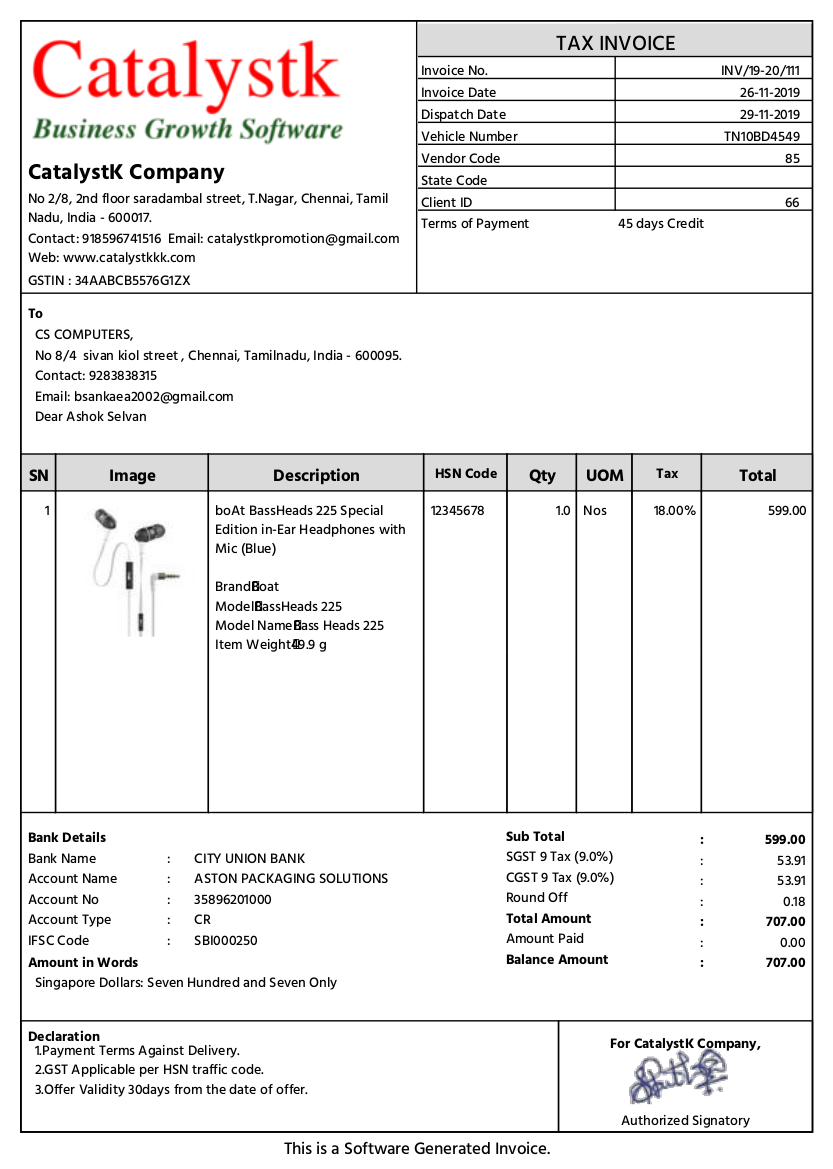 Catalystk offers free billing tracking software download full version to retrieve invoices in multiple formats such as download, print pdf, letterhead, tax invoice, duplicate invoice, triplicate invoice, mail invoices, etc.
Catalystk simplifies the invoicing process by providing a separate tool to generate invoices within minutes and with multiple unique features. The free billing tracking software download full version unique features include adding multiple terms and conditions, adding new inventory products, downloading invoices, print invoices in multiple formats such as A4 size, tax invoice, letterhead, and small size, mail invoices to the customer, download duplicate copies of invoices, payment followup for invoices, assigning invoices to the sales team, etc. These multiple features speed up the invoicing and the sales processes. This full version billing tracking software also provides GST Ready software free download which is a combination of Sales, Finance, Purchase, Inventory, Help desk, and CRM modules. Finance module provides general ledger, customer ledger, supplier ledger, balance sheet, Profit and loss, etc. The sales module provides full tracking of sales like generating quotations, proforma invoices, sales orders, etc with full-fledged ERP workflow. The purchase module provides purchase order, purchase inquiry, supplier identification, Goods received note, etc. Leads is the CRM module with customer details, its promotion, its campaign, the workflow, etc that helps to optimize your business. 
Free billing tracking software features :
Invoice
Email Invoice
SMS Billed details
Quotation with images
Quotation without image
Email Quotation
Quotation
Proforma Invoice
Sales Order
DC
Return Received
HSN Code
GST Calculations
Finance management
General Ledger
Client Ledger
Supplier Ledger
Pending Payments
Balance Sheet
Profit and Loss
Sales management
Procurement Management
Purchase Enquiry
Vendor Identification
Purchase Order
Goods Received Note
Goods Return
Purchase Invoice Verification
Purchase Invoice
Pending Purchase
Sales Work Flow
Grouping
Follow Up
Excel Uploads
Excel Download
Automated Sales Order, Invoice mailing system
Reports
Catalystk provides Free Billing tracking software that manages financial transactions, generates sales reports with an excel download option and with multiple custom options.
Free billing tracking software provides a "finance" master module to record all the financial transactions as ledgers such as customer ledgers, supplier ledgers, etc. You can generate and download finance reports based on the customer, supplier, invoice, sales order, purchase order, pending payments, etc. Additionally, the system provides a "reports" module to download 500+ reports such as client reports, invoice reports, product sales reports, support reports, etc on a daily and timely basis. It improves your sales, tracks all the customer conversations, status or workflow, maintains very good followups, payment followups, meetings, etc. This is an enterprise resource planning module that is interlinked with other modules like sales, purchase, etc with multiple custom options based on a company's need. A cost-effective solution that can maintain your entire business.