Best GST billing software for processing and generating tax invoices
Catalystk Best GST billing software for processing and generating tax ready invoices to manage business finances. With the introduction of GST, an indirect tax imposed on the goods and services rendered, there has been an increasing demand for a system that can generate tax ready bills or invoices. A tax ready invoice is a legal document that serves as proof that a transaction has been made between a buyer and seller for the goods or services rendered with the tax payable amount included in it. A tax ready invoice can be easily generated when the products are maintained with the tax percent imposed on it and Catalystk Best GST billing software is embedded with this feature that makes it a reliable one. Catalystk Best GST billing software is integrated with Lifetime free GST billing software, free CRM software, ERP software, AMC or Rental software, Inventory software, Manufacturing software, Artificial Intelligence ( AI ), and 500+reports. It's fully free with all the options. Click the link to register for free.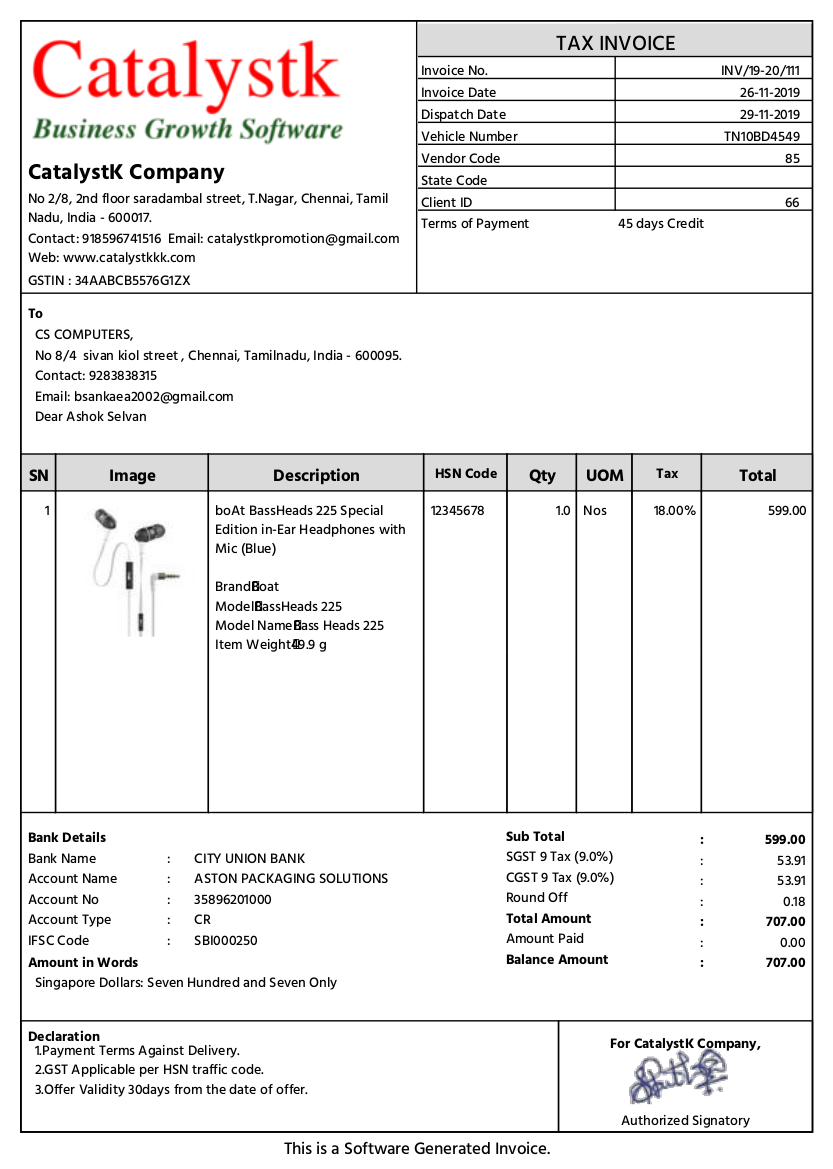 Best GST billing software for inventory management to maintain products with the tax percent, thereby generating tax invoices with ease
An invoice records a transaction between a buyer and seller and it includes information such as buyer and seller details, invoice number, date, information about the goods and service, payment details, etc. As a result, inventory management is important in billing or invoicing process. Catalystk provides a product master module for various types of products such as inventory products, service products, and raw materials with the tax percent imposed on each product. Maintaining the product with the tax percent speeds up and eases the process of generating financial documents such as quotations, invoices, etc. As an add-on feature, Catalystk allows "product grouping" by mapping them to a particular group. This helps to categorize products easily.
 Best GST billing software features:
Estimation with tax
Invoice with tax
GST Calculations
Finance management
General Ledger
Client Ledger
Supplier Ledger
Pending Payments
Balance Sheet
Profit and Loss
Excel Uploads
Excel Download
Estimation with images
Estimation grouping products
Sales management
Procurement Management
Purchase Enquiry
Vendor Identification
Purchase Order
Goods Received Note
Goods Return
Purchase Invoice Verification
Purchase Invoice
Pending Purchase
Estimation without image
Email Quotation
SMS Quotation
Quotation Follow-ups
missed quotation follow-ups
Sales Order
DC
Sales Projections
Sales achievements
Deals management
Task management
Leads management
Return Received
HSN Code
Sales Work Flow
Manufacturing
Bill of Materials
MRP(Planning)
Job Work / Job Order
Work Order
Manufacturing process
Grouping
Follow Up
Automated Sales Order, Invoice mailing system
Reports
Best GST billing software is integrated with reports module to generate invoice reports, thus tracking and monitoring the outstanding invoices
Invoice reports provide a detailed view of the current status of the invoice and help to track the outstanding invoices. Catalystk provides a reports module for generating multiple reports such as lead reports, purchase reports, sales reports, finance reports, etc. With the Best GST billing software, you can download invoice reports with up to date information about the number of tax invoices generated with excel download feature. It provides features for generating quotations, proforma invoice and tax invoice reports for a particular client on a daily and timely basis.