Best CRM software in India to build & improve customer relationships
Catalystk offers one of the best CRM software in India free, for small business enterprises to enhance their business relations with customers. It is a business growth software suite ideal for improving customer relationships, maximizing upselling, thereby increasing the overall revenue. A Customer Relationship Management (CRM) software, in a nutshell, can be described as a system or tool for maintaining appropriate customer information, building good customer relationships by maintaining a rapport with the customers. The software for CRM by Catalystk is one such web-based tool that helps you build customer rapport, monitor lead status, analyze business prospects and convert them into sales qualified leads. It is an all-in-one software embedded with business growth tools that make it a one-stop solution for managing any business flow. Catalystk provides one of the best CRM software in India which is an integration of Lifetime free GST billing software, free CRM software, ERP software, AMC or Rental software, Inventory software, Manufacturing software, Artificial Intelligence ( AI ), and 500+reports. It's fully free with all the options. Click the link to register for free.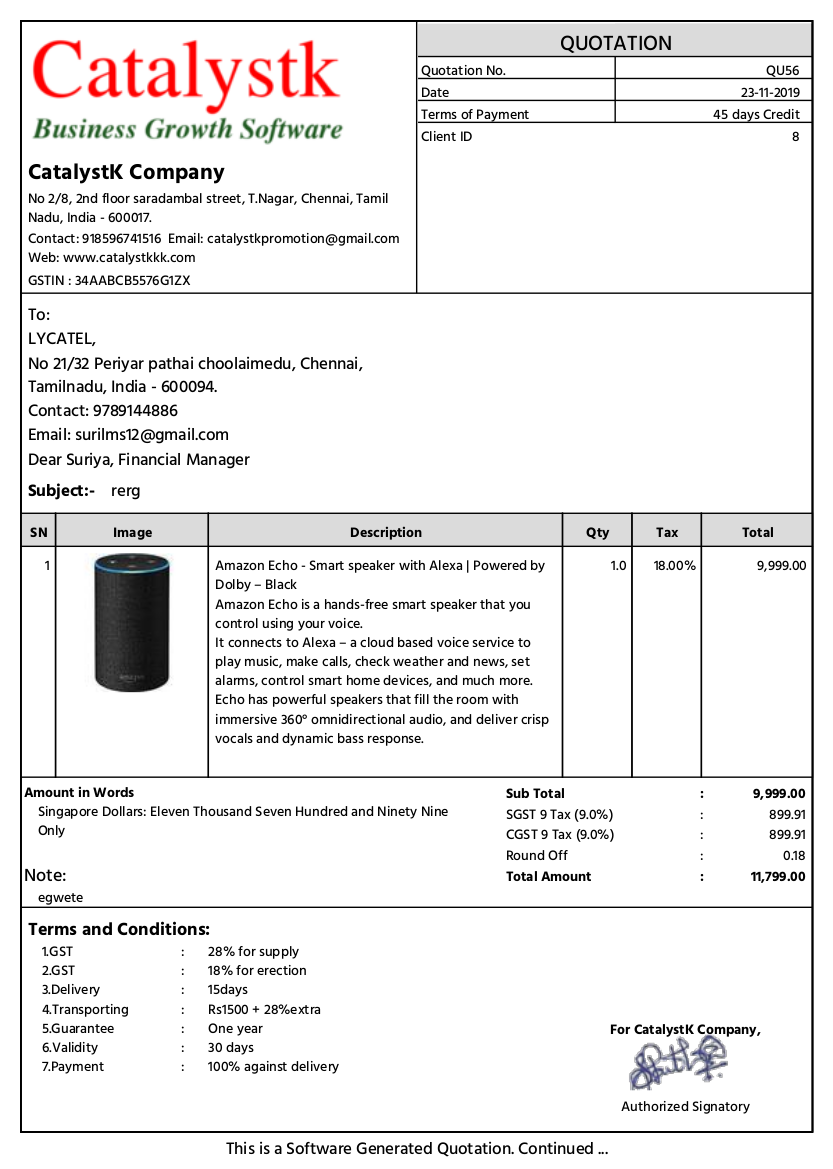 Catalystk CRM software free with follow-up reminder feature to monitor lead status, customer interactions and improve lead conversion
"Leads" can be described as an entity that expresses an interest in the services provided by other business organizations. A Customer Relationship Management (CRM) system is one that incorporates facilities for managing the incoming business leads and converting those leads into deals or sales leads. Catalystk free CRM software has separate modules integrated into it for both lead and deal management. These modules come in with multiple features such as daily customer follow-up reminders, tracking missed lead followups, log customer conversations, grouping, lead auto-capture through promotions, tracking lead status, prioritizing deals, deal status, deal followups, tracking deals won or lost, and tracking achievements of sales team by setting sales target. 

 Best free CRM software features:
Leads management
Deals management
Task management
Grouping
Follow Up
Revised Quotation
Email Quotation
Quotation Follow-ups
Missed quotation follow-ups
Proforma Invoice
Sales Order
DC
Sales Projections
Sales achievements
Return Received
GST Calculations
Finance management
General Ledger
Client Ledger
Supplier Ledger
Pending Payments
Profit and Loss
Excel Uploads
Excel Download
Sales management
Procurement Management
Purchase Enquiry
Vendor Identification
Purchase Order
Goods Received Note
Goods Return
Purchase Invoice Verification
Purchase Invoice
Pending Purchase
HSN Code
Automated Sales Order, Invoice mailing system
Reports 
Catalystk free CRM software India helps to process sales and deliver customer requirements with tools to generate quotations, invoices, and manage sales orders.
Sales processing becomes the secondary process once the leads are converted into deals wherein customer requirements need to be delivered efficiently. Processing sales include multiple documents to be generated and the free CRM software provides sales tools to generate quotations, proforma invoices, sales orders, and GST invoices. From managing customer enquiries to quoting, order management, dispatch, and billing the entire sales workflow can be systemized using the online CRM platform. The system helps track the progress of the sales with follow-up reminders and notification tools. Also, the CRM provides daily client reports, sales projections, product sales reports along with useful business insights.